Wild Water Rafting
When I heard about Wild Water Rafting for the first time I couldn't imagine sitting in a raft in the middle of a river with very wild stream with just an oar in my hand. I couldn't imagine I could do that high risk water activity. So when a friend asked me to do that, I shook my head. No, thank you.
Several years later when we moved to Malang, I heard about wild water rafting again. This time it was not from a friend but from a travel agent.
I still had doubts about this water activity. Is it going to be ok? There were children of 4-6 years among us and we were all beginners. But our guide from the travel agent ensured us that we would enjoy it. There was just one danger about wild water rafting, he said. We all looked a bit worried and listened carefully to him……. Then he said, "Once you do that, you want to do that again and again. You'll get addicted". I was relieved but curious if it would happen to me.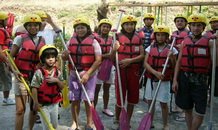 We would raft in Pekalen river in Probolinggo for 12 km. Probolinggo is about 2 hours from Malang.
We got our jackets, helmet and oar but small children didn't get any oar. They would be seated in the middle of the adults for the safety. One raft can take 6 persons with 1 instructor who will sit at the back so he can have the control of the raft.
Then we got a briefing about the rules and instruction that we'd have to do during our rafting. They demonstrated how to hold the oar safely so it would not danger the other people, especially when the raft rides up a rock. Row forwards and backwards.
If the raft sucks on a rock, we need to move our body together so it will release the raft. Another important instruction is Boom. It means we have to hold vast the cord in the raft and move inside the raft to avoid being flung from the raft. We'd hear this instruction as an example when the raft was riding up a rock.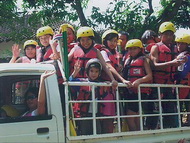 To reach the Pekalen river we went there first with an open pick up, and then we had to walk for about 20 minutes. Down there I could see the river, it was a beautiful scene. Too bad I couldn't bring my camera there because it would be wet.
We started to raft. There are lots of streams and they all have a name. There are 2 streams with interesting names. The first is God bless. They call it so because the stream is high and dangerous. The other is Buttocks stream, because people from the village around the river use the river as a place of everything. Not only the people who get benefit from the river but also cows and motorcycles.
In the middle of our trip of wild water rafting we took rest. We got traditional home-made cake from cassava and a fresh coconut juice. The resting place was upstairs at the other side of the place where we stopped. We had to walk on a bridge to go there. The bridge is made of bamboo and it was 4 meters high from the river. The instructor told us that you may jump from the bridge into the river. It's safe.
Something in me began to fight, my desire and my fear. The bridge is just less than 30 cm wide and it moves when you walk on it. To ensure the safety I asked one of the instructors to jump. He did. You have to keep your legs straight, otherwise I t would hurt you when you reach the water.
I stood on the side of the bridge. I was resolved on jumping but then I made a fault. I looked downward. I saw water so far away and I realized how high it was. My fear won. That was my first rafting. When we left the resting place I promised to myself, I would jump the next time I am there.
My second wild water rafting was a year later. I was looking forward to jump from the bridge. But too bad, I still couldn't do that. This time we used another organization while the resting place with the bridge belongs to an organization we used the first time.
Lucky me I didn't have to wait long. When our friends from Holland visited us, we went rafting again. It was just a couple of weeks after the second time. Not wanting miss the bamboo bridge again, we used the first organization. Hello Bamboo Bridge! I am coming!
So I stood again at the side of the bridge. My desire was strong but I still had doubt. I knew that I wouldn't get this chance again, for sure not in a short time. I knew that I would regret if I didn't do it. It's safe and it's my desire. What else? I am not the first one who would jump. I saw a lot of people did it and they were ok. Then I decided to conquer my fear. I jumped!
I felt flying and light like cotton blown by the wind. One second I thought, what am I doing? Before I could think further, I felt the water. I was alive again. The feeling was so nice that I jumped again for the second time. Later I heard about the same feeling from our instructor. First you felt like you were death and then the water woke you up. Indeed.
Do you see the picture of the bridge here? Nice, right?

Noooo…. it is not the bridge where I jump from. No one took a camera while rafting so we do not have the picture of the bamboo bridge. But someone from the organization will follow the trip and at some points he can take pictures of you. So you can give your camera to him.
You need a day for this fun water activity. Bathrooms and changing rooms are available so bring your change of clothes. After finish rafting you'll get delicious Indonesian lunch prepared by local people there.
The following are 2 organizations of this activity, Regulo and Songa.
Wild water rafting is not scary at all, it is just fun. One thing more…… The warning is true. I got addicted. Be ready for that!
Return from Wild Water Rafting To Malang Activities
Return from Wild Water Rafting to Holiday-Or-Living-In-Malang