COZY GUEST HOUSE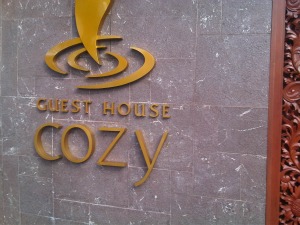 Cozy guest house offers a comfortable stay in homy atmosphere. Located close to the boulevard of Malang, jalan Ijen, this guest house is easy to get. It is just 5 minutes walking to ATM and good restaurants (Indonesian and western).
This guest house is just opened on July 9th, 2011. It is clean and well furnished. The interior is nice and the staffs are friendly. They have 14 rooms consisting of 3 types; Deluxe Rooms (11), Junior Suite Rooms (2) and Suite Room (1). The facilities in every room are wifi, television, and tea/coffee.
The location is a quiet residential area. During colonial time Dutch people have lived in this area. You can see the Dutch influence at houses in this place. They still had old Dutch architect. Some are too bad not maintained well and some have been renovated to modern house style, like this guest house. Still the area can give us imagination about those old times.
The aim of the owner is to make a guest house with hotel touch. The furniture is modern and has good quality. The bed is so comfortable that you can start to dream after you lay on it. This guest house wants you to have good rest in a homey atmosphere. The name says it all.
They also have a café and a restaurant that serves Indonesian food. They are open till 9 pm.
Here is the price list of the rooms (single or twin bed) including breakfast.
Suite room IDR 650,000.00
Junior Suite room IDR 550,000.00
Deluxe room IDR 450,000.00
And here is their address:
Jalan TGP no. 8
Malang
Are you curious to see how this guest house looks like? Here are some photos of it. (mouse over the image to see the description)
Return from Cozy Guest House To Malang Guest House
Return from Cozy Guest House to Holiday-Or-Living-in-Malang