Joglo House
Typical Javanese Building Style
Nowadays it's hard to find the original joglo house maybe just in a small village in a rural area. But there is one in Malang!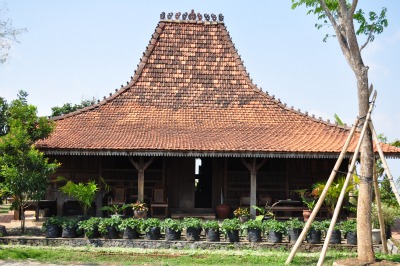 It is a typical Javanese building style with a trapezium roof. It has a wide front veranda and inside the house there is no partition, so it is one big room.
The one in Malang is an original one but not original. I bet you become confusing now. Let me tell you more……
This joglo house is real and original as it is stated in its document. It is made of teak wood and has beautiful carvings. It is from the year 1881 so it is more than a century old! Now, what is not the original? The place. It is not original from Malang because this traditional house is moved in 2007 from its original place, Kudus, central Java.
Mr. Ridho Hakim is the new owner. He loves Javanese culture and is happy that he can keep this Javanese traditional house. He is from Solo and his wife is from Kudus (both places are in Central Java).
His respect and responsibility for the culture is shown in his answer when I asked him why he wanted to buy this old joglo house and took so much work to move it to Malang, "If we wouldn't keep and take care our heritage, who else would?" I am sure lots of people agree with him (including me). Beside he also wants to share the beauty of this joglo house to others.
The form of the house is not just unique but it also has a meaning. There are three important parts of the house, starting from the veranda. Then through two steps of stairs you come in a smaller sitting room and then through some steps of other stairs you go to the main room or family room. In this room you can see the roof that goes high. According to the Javanese philosophy, to get the top/succeed you have to start from the bottom. Success is not an abracadabra thing but a journey through steps.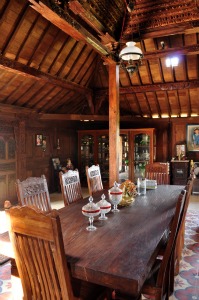 The veranda, the smaller sitting room and the main room have different function. You can use three of them to receive people. You receive random people at the veranda. If you know them better, then you can receive them in the smaller sitting room and good friends or family you let go into the main room. There is no bedroom and bathroom in joglo house. Behind they have a normal house that is provided with bed- and bathroom.
However the owner puts a bed in the main room. The traditional bed is made from teak and has carvings as well but it is not as old as the house itself. The bed is from Kangean, a place near Madura island, East Java.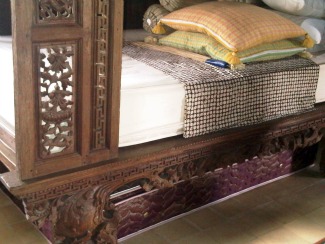 From the main room you can go outside to the back yard. The bathroom is located a couple of meters from the house. It is a bathroom with Javanese way of taking bath, so no shower.
They use old-look tiles for the floor that are handmade. You feel this cement-based tiles always cool on your feet and they become shiny every time you clean it (with neutral cleaner).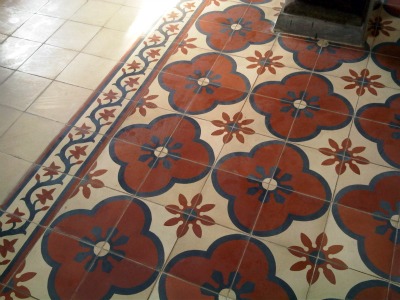 This heritage is placed in the area of 4,200m2 surrounded with very nice view. There is a small football field, gazebo's, fish pond, big garden with flowers and different kind of plants and fruit trees, like coconut, orange, strawberries and even durian.
Inside the house you will see antiques as collected by the owner. Behind the joglo house there is another similar style house but not from teak. The owner has built it for another bedroom and it has also a bathroom just beside it.
The air in this area is clean and cool. You can enjoy the calmness and feel relax while reading a book, working on your laptop or just lying on the bench or sitting in the swing. You can use this place for a meeting or gathering with your friends or family a half day or whole day. It is also a good place for you if you're interested in Javanese culture or if you like to photograph as there are many interesting and beautiful objects.
There is a price you have to pay depending on the aim of your visit. They will provide you with coffee and snacks. If you want, you can make an arrangement about food as well.
The Joglo house is located on Jalan Dieng Atas kav.9 Kalisongo, Malang. It is called Joglo Kalisongo. For more information about visiting this joglo you can contact Mr. Akbar, the manager, who speaks English, Indonesia and Javanese at numbers +62-85259234923 and +62-341-7318990.
There are so much nice objects to show of Joglo house. You can look at this slide show here. (mouse over the image to see the description). Thanks to Don Vantour who has made the most photos for this story.
Dream about having your own joglo house? You can realize it! We know someone who can help you. He knows much and has lots experiences about this Javanese heritage, not only how to build but also how to ship it. He has different kinds of joglo house to offer or a part of it in his own company. Do you want to know more? You can send your question through this contact form.

UPDATE 2018
Due to some reason this lovely joglo house is moved (again) out of Malang to another place.
Return from Joglo House in Malang to Holiday Or Living in Malang