MALANG HOUSING COMPLEX
Finding A House after Taking Decision for Living in Malang
So have you decided for living in Malang? Check these options of Malang housing complex before you decide where to live in this city. But first please accept my warm welcome.
This step of finding a house is very important because it is about your rest place or maybe your work place as well. It could be overwhelmed too if you don't have any idea about the options. But don't worry, I'll help you.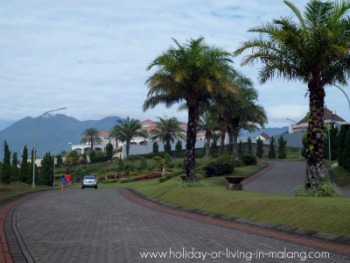 There are enough choices of places to live in Malang. Here I recommend several housing complexes. They are known in Malang, have facilities of daily needs, strategic location and have good reputation. The list of these Malang housing complex can be longer because there are some new housing projects still working on.
Here are they:
Villa Puncak Tidar
One of the biggest housing complex in Malang. Splendid area, surrounded by mountains, cool and clean air.
Istana Dieng
Istana means palace. Beautiful palaces with mountain view.
Puncak Dieng Exclusive
The name speaks itself. An exclusive housing complex.
Araya
Located not far from the airport and big bus terminal. This beautiful housing complex is like a small city in Malang city.
Permata Jingga
Neat housing complex with modern tropic concept.
Riverside
Well maintained resident area with lots of greenery.
Some of these housing complexes are located in one area but others are spread in Malang.
Maybe you are wondering whether these options of housing complex are for renting or buying a house. They are for both. Unfortunately the developers don't rent out houses but the owners of houses, do. Often they bought a house for investment.
People who rent out their house place a sign "For Rent" in front of the house. They also mention a phone number for contact. If you are in Malang, visit the housing complex you like, drive around and note the contact numbers. You can then make appointment for follow up and negotiation. I understand that you cannot do this if you're still out of Malang but you can take note for the area you like.
Just to let you know that more schools and places for after school- and daily activities such as music/dance course, shopping malls, supermarkets, and gyms are located in center of Malang.
To make your decision a bit easier, you should consider these things as well.
Are you alone, just with spouse or also with children?
Do you work at home? Or do you need to go to your office regularly?
If you don't have home office and have school age child(ren), know the place of your office and your children's school first.
If your office and the school are located far from each other, then think who would give in? Would it be ok that your children have to get up and to go earlier to school? Do they go to the school every day (play group children can go possibly 2-3 days a week). Would your children have lots of extracurricular activities so they often have to stay longer at school? Who would drive you/your children, yourself, your spouse or a driver? Would you go often out of the city/country?
All options of Malang housing complex have their plus and less favorable points depending on your needs. Think of location, facilities, quality, surrounding area and of course the price. Look at them well, compare and choose the best and the most suitable option for you and your family.
Living in Malang is exciting but finding a house in Malang is another adventure. I hope these Malang housing complexes give you more view and help you to consider the best option for you.
I wish you a successful adventure of finding a house here and may it would be your Malang home-sweet-home.
Return from Malang Housing Complex to Holiday-Or-Living-in-Malang