MALANG KEMBALI
OR MALANG TEMPO DOELOE
It does not only remind you about Tempo Doeloe
Malang Kembali (Malang in the back time) is a four days folk's feast that teaches you about history and culture of Malang. It takes place along the boulevard of Malang, jalan Ijen. It brings you to a situation of a defined period where you can see activities of Malang people at that time. Every year it has different period and theme. You see the atmosphere from the setting of location, stands, to dress code of visitors. This cultural event is also known as Malang Tempo Doeloe (Malang Old Time).

Inggil Foundation and Malang city government are the ones behind this big festival. The first Malang Kembali was held in 2006, mostly in May close to the birthday of Malang city. Theme of the first until the sixth Malang Kembali is history of Malang from some period. This seventh one uses the time period of 1870–1938 with the theme Malang World Heritage Site.
Unicef has decided to make a world heritage city as a parameter and Indonesia takes a part of it and pointed Malang and Ternate as Pilot Project.
There are more than 500 stands that take a part of this festival this year. They are stands of traditional food or snacks, antiques, tools that are used commonly during that period. The stands are at both side of Jalan Ijen. They use sago palm for its roof like many houses in those years here.

Beside stands there are also stages where dance, music and other performance from Tempo Doeloe are presented.
At different spots there are big pictures of different places in old times. It is nice to see the difference between the old time and present. I really hope that old buildings will be kept well and Malang can be World Heritage Site.
If you go back to old time you'll also see things in that period that we now call old or antiques. In this folks festival they sell lots of old things like

keris,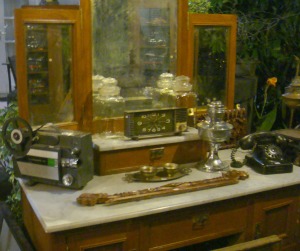 old radio, projector, clock, telephone, etc displayed on an antique cupboard,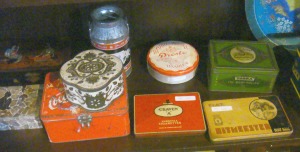 old but nice cans,
lamps, and even........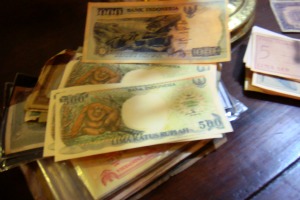 money, that you have to pay with money too.
Here you can see lot of traditional snacks and cookies that are rare nowadays.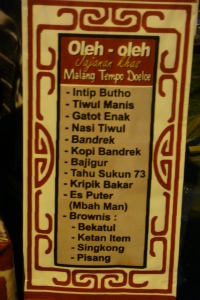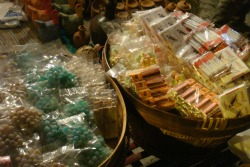 Beside food you also learn to know what kind of traditional games Malang people had at that period.

The best time to go to Malang Tempo Doeloe is around 10am or 4pm. It is still light but not too hot and also not too crowded like the picture here below.

Return fromMalang Kembali to Holiday or Living in Malang