MALANG CITY
The diversity of a city
Here we have Malang city adventure. This city has 5 temples which are thousands years old and you can see farmers in Malang plough up the land using plough pulled by cows. But don't worry, you will not arrive in a jungle if you visit Malang. This city has also a 5 stars hotel, international fast food restaurants and much more.
Malang city with its area of more than 110.06 km² and with about 1 million people is the second largest city in East Java, Indonesia. Malang is the name of the regency and the city as well. Let me tell you about the city of Malang.
This city is famous for its cool air. It is good for growing different vegetables and fruits like apples and strawberries. Apples from Malang is known well in Indonesia. Many home industries in Malang and its neighborhood use apples as a basic material for different products as juice, jam, snack, etc.
The eye catchers of Malang city for me are:
Neatness. Parks and plants are cared for. Many old buildings are still in good condition, like in Jalan Ijen.


Wide and much less crowded streets. In compare with other cities in Indonesia like Jakarta, Surabaya, Bandung, Semarang, the streets in Malang city are better. It makes me comfortable to ride although I didn't know the area very well.



The nature. I see more greenery here than in other cities in Indonesia. It gives me more space to move and breath.

Yes, I like green and I am happy to see that this city still has many old trees. That's why one of my favorite places to go is Flowers Market in Malang city. If you just moved here and need flowers or plants for your house or garden you should visit this place. Local people call it flowers market Splendid because it is located near to a guest house called Splendid Inn. At this market you can find indoor and outdoor plants and flowers.
For the ones who like fish, turtles, and other animals, the animals market is for you. It is located beside the flower market. Cats, dogs, rabbits, hamsters, iguanas, snakes, even monkeys are available there. Even if you don't plan to buy any animals, it is an interesting place to visit.

The city hall is on jalan (street) Tugu. The name is referred to a monument that is located in front of the building. Like most old buildings in Malang, this building has also Dutch architect and the monument is surrounded by a big and nice water lelies pond. At this location you also have the only 5 stars hotel in Malang, Hotel Tugu.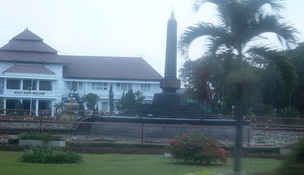 How about the food? As I said in the beginning of this story, Malang city has international fast food restaurants like Mc Donalds, KFC, and Kentucky.
Lucky me that not all Malang people like fast food. Lots of them also love and enjoy having the food "slowly". That's why Malang also have many restaurants both Javanese/local food and western food. If you want more traditional food and snacks you can go to Sunday Market in jalan Semeru.
Malang city has shopping centers or like we call them here malls. The well known malls in Malang are Matos (Malang Town Square) and MOG (Malang Olympic Garden). They are not very big but you can find items of daily needs here. Do you know the advantage of having small malls in the city? Right! You can keep more money in your wallet :)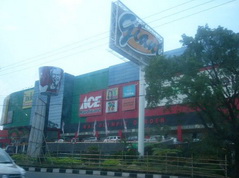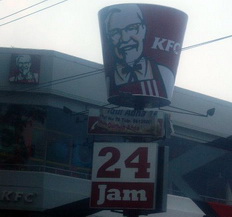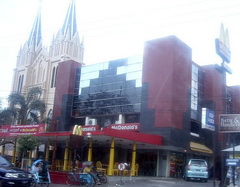 Public transports in Malang are taxi, angkot, a kind of small bus, and becak (pedicab). You can use this pedicab to enjoy jalan Ijen.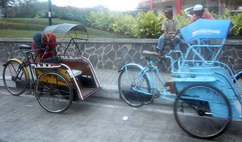 Like I told you before, the city has silent witnesses of history. There are five temples of thousand years old, among others Candi Singosari, Candi Sumberawan, and Candi Badut. These temples can tell much about the history of Malang.

Rice field is also available in Malang. It is not far from the city, just about 15 minutes.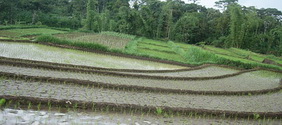 I even saw this....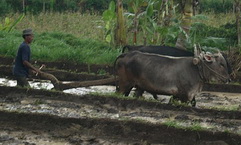 No........not from the window of Mc Donald.... It was near a housing complex in Malang. It reminds me to a story I read when I was a child. I didn't expect to see it live in this time. Apparently it is possible in Malang.
That's information about diversity of my Malang city. You can click the links in this story to get more information about the concerning places. And to get much better information about this city? Visit it and experience the Malang city adventure by yourself.
Return from Malang-City to Holiday-Or-Living-in-Malang