CANDI SUMBERAWAN

A Buddhist temple with garden of angels
Candi Sumberawan or Sumberawan temple is dated from 14th century (135). It was a garden that is called Kasurangganan that means Garden of Angels due to its beauty. A lake is a part of the garden that is called Rawan lake. Here comes the name Sumberawan from.

I was driving alone to get there. Men said that the location of Candi Sumberawan is not far from Singosari temple.  I won't waste my time if I was not sure about the way. So I stopped and asked people there. It was the right way. The way lies between rows of houses. I had to drive carefully because it is a village area. 
Then I saw a board.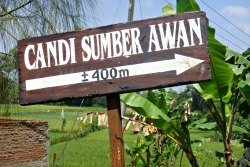 400 meters to Candi Sumberawan. I parked the car in an open area there. I have to follow a path along the rice fields and a small river. What a privilege to be here. Your eyes are pampered with greenery and your ears by water sound. I love this natural luxury and calmness. The breeze of the wind touches your cheeks and hair. I bet I'd fall in sleep within minutes here if I stopped and take a seat along the river. 
From the parking lot it takes about 15 minutes walking to get to the candi Sumberawan. But I needed 30 minutes because I stopped several times to take pictures. In the middle of rice fields there is a simple hut.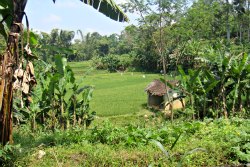 Farmers use it as a resting place during lunch time. They spread a rope everywhere with pieces of plastic hanging it to frighten birds that come to eat paddies. A couple of men and women were  sitting and chatting there.

I saw some women washing clothes and bathing in the river. So.. no washing machine here. This reminds me to a village of my grandparents in North Sumatra. Our first visit there was in 1980. We had to walk about 30 minutes to a river to take a bath and to wash our clothes. At that time I never heard about laptop, hand phone or internet. Now I can take a picture with my hand phone and send it to a friend on the other side of the globe in only 10 seconds and here they are still washing clothes in a river. Some things do not change.

After passing rice fields I entered forest and I could see the temple. What a very well place for a temple. 
In year 135 the king Hayam Wuruk, from the kingdom Majapahit, visited the garden. The place is very calm and quiet, shady and comfortable and located at the foot of Mount Arjuno about 650 meters above sea level. He fell in love with the place and decided to build a temple there. 
The form of Sumberawan temple is called a stupa, which is a characteristic of Buddhist temple. There is no relief on the wall. Based on these facts they concluded that this temple was built just for sacred ceremonies/rituals. People walked around the temple clockwise several times and prayed. Until now this Sumberawan temple is still used as a place for praying for Buddhist people. I think you can pray very well here because of the calmness, far from the cities noises. 
The Dutch Indie government has founded the temple in 1845. It stood stuck between big trees.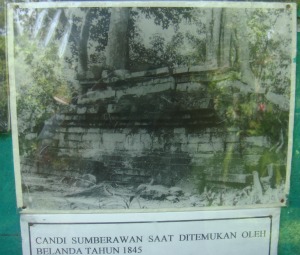 Just in 1935 they renovated the temple. They found out that there was no space in the temple, different to other temples in Malang like Singosari, Badut, Jago and Kidal temple. They could not put every stone back in the temple as you see the pile of stones lying in the yard around the temple.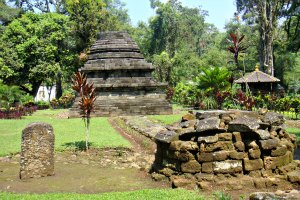 I took a while and seat under a banyan tree looking at the temple and imagining the ceremony hundred years ago. Questions appeared. How big was their community? How the clothes look like? Did they have to walk far from their houses to get here? Were also children among them? Were they singing during the ceremony? and many other questions. So interesting to see the real silent witness of this life. What an old earth we live in and time can fly very fast. I looked at my watch… yes, it's time to go again.
I had a pocket camera with me and on the way back home I liked to have a picture of myself in this area. I asked a woman who was washing clothes in the small river there to take a picture of me. She became a bit nervous but liked to do it. I told her how to use it. First she held the camera with the lens towards her. I just smiled and explained her. Then she took a picture of mine. Here is the picture.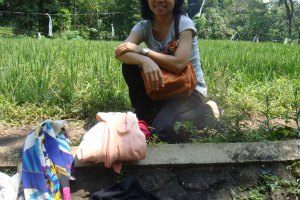 I had to laugh and she looked proud to be able to take a picture. Maybe it was for her the first time. I thanked her and went back to the car. I looked several times at that photo and looked back at her who was busy again washing her clothes. I like this place and I'd like to come back again. 
To share more stories about Candi Sumberawan with you, I let these pictures tell you (mouse over the image to see the description). Hope you can see it in the real as well.

Return from Candi Sumberawan to Malang City
Return from Candi Sumberawan to Holiday or Living in Malang