Mie Setan in Malang
The name of Mie Setan made me curious. Mie means noodle and Setan means satan. What does this noodle have to do with satan? Is there one in this restaurant? Do they make the mie with monster? I'll find it out.
This restaurant opens every day at 16.00-22.00 except Tuesday which is their holiday. There is always a crowd at this restaurant, mostly young people. They even have to queue to order the food. At first glance I thought it was a disco.
One day a friend asked me to go there. We went there on a Friday evening and it was about 6.30 pm. We tried to find a table for 4 of us but a waiter came to us and asked us to order first. In a meantime he'd find a table for us.
So we connect the queue and to save time we got a menu card. We could choose the food and drink while waiting for our turn.
The place is not scary at all and the waiters either. But on the menu you read lot of sorts satan in Indonesian, names of their drinks. Genderuwo, Tuyul, Sundel bolong, Pocong and Kuntilanak. If you like Indonesian horror movie you'll see how these satans look like. But I don't want to talk about it because these are just names. I prefer to tell a nicer thing. Yes, the taste!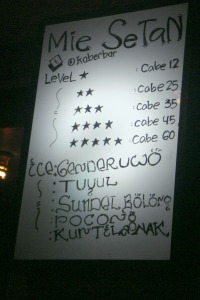 As we expect, the main food of this restaurant is mie or noodle. This noodle is spicy and can be very spicy, depending how spicy you want. It has levels.
Level 1 (one star) uses 12 chili peppers
level 2 (2 stars) uses 25 chili peppers
level 3 (3 stars) uses 35 chili peppers
Level 4 (4 stars) uses 45 chili peppers
Level 5 (5 stars) uses 60 chili peppers
I can imagine that chili peppers farmers would be happy with buyers of level 5. But don't get surprised if you see people eating their noodles with tears. It is so spicy that they cannot hold their tears coming out.
I hear you saying, I am not a spicy food lover, so this restaurant is not for me? Yes, you can still come to this restaurant because they also have Mie Angel, noodle with no chili pepper. Beside they also serve Dim Sum recently. This is steamed Chinese food placed in small bamboo baskets. One basket contains 3 or 4 pieces of small bite-sized snacks.
I like spicy food and often take spicy sauce for my food but 12 chili peppers seemed too much for me. My friend likes spicy food more than me. She ordered Mie level 1. She also ordered one for me. Yes, I am curious about it and for the "safety" I also ordered mie angel. Would you want to know how I like the taste? I do like it. It is good and I have to tell you that I've come back there two times and want to come again.
The man behind this good food is not a native Malang. He is from Jakarta. His name -far from an image of satan but still contains mie- is Gemmie. But he introduced himself to me as Mr. Gendut (Fat man).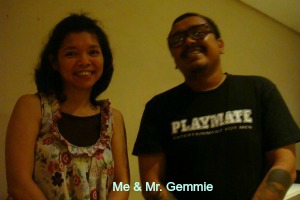 When I asked him about the reason of starting Mie Setan, he said that he wanted to start a business with something he likes. He likes spicy food and noodle is popular food in Indonesia, so he combined those two. He started it in March 2011 but he didn't satisfy with the taste. He kept trying and modifying it. 4 months later, in July 2011 he opened Mie Setan in Malang. He already has a plan to open branches of Mie Setan in 2 other places in Malang.
This is a wise and smart idea to start a business, because you'd never want to stop doing what you like, right? You would see problems as challenges so you keep trying. Are you also interested? I recommend
this information for more ideas
.
Like I said before, Mie Setan restaurant gets lot of visitors. They come for hang out as well. The food is good, the price is affordable (Mie of all levels costs IDR 8,000 and drinks price starts from IDR 5,000) and the place is cozy. So, what would you want more? Popular drink is Genderuwo Ice (sweet) and Pocong Ice (sweet sour). My favorite is Tjampolay Ice (fresh shaked mix of tea, syrup and lemon).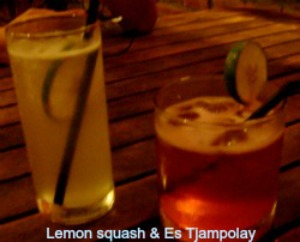 Not just the mie or noodle with levels makes this restaurant unique but the way they serve. They will ask your name and mobile number when you pay the food. Then a waiter will bring you to your table. If the food is ready they will call your name. Don't get shocked if all waiters shout your name together at the same time. It means that you didn't pay attention when they called your name for the first time. Don't worry, they will keep smiling though.
Keep your nota and show it by reordering. You don't have to queue again. At next visit just say your mobile number. They will recognize you as a-not-first-time-visitor, at least if you use the same name and phone number.
You can also take the food home.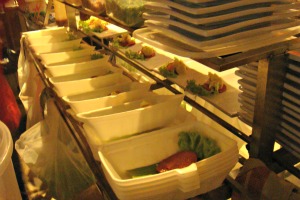 Take away Mie Setan
When I was there, I asked them the highest level people ever ordered. It was level 3, noodles with 35 chili peppers! (see the first picture above). Recently Gemmie told me that people have ordered level 4 or 5. Even once they had to make a special order, noodles with 100 chili peppers!! And with no additional cost.
The question now is, why is the name Mie Setan (Satan Noodle)? In Indonesian street language, people say often "Setan!" if something is too much for them. If someone eats something very spicy, he'd say "Satan! What's so spicy!" It doesn't have to do with satan but it's just a word for expression.
Anyway you don't have to say it. Just enjoy the noodle, the fire in your mouth and the fresh extinguishing drinks.
Mie Setan Restaurant is located in Jalan Bromo no.1A Malang.
Here are more pictures about Mie Setan.
If you are in Malang, make time to prove the satan… oopss.……the Mie Setan and let's hear your comment here!
Return from Mie Setan in Malang to Holiday Or Living in Malang