Mang Engking Restaurant
Fresh water fish food restaurant in the middle of paddy field

Mang Engking is local Malang fish food restaurant. It is located in the middle of paddy field. "Padi" should be a suitable name for this restaurant but there is one Padi restaurant in Malang.

I have heard a lot from friends about this place. All of them gave positive comments. It makes me curious because they all are critical food lovers. They wouldn't say that the food is good if it is just average.
One day I went to Surabaya with friends. On the way back to Malang we planned to stop for lunch. One of them said, how about Mang Engking? None of us has been there but we all have heard about it. So we didn't say "no" to this chance.
This restaurant is located in Pandaan, about 40 minutes from Malang city. From the main road of Malang-Surabaya you have to turn left and it takes about 20 minutes to get to Mang Engking. We only knew the area but didn't know exactly where it is. Lucky us that this restaurant is known by people there. After getting the direction from people in the neighborhood, we, four hungry ladies, were finally there.
Mang Engking is the name of the owner. Mang is a friendly nick name in Sundanese (West Java) means mister. This is a non-formal restaurant as you can see directly if you get there. There are some bamboo houses built on the stocks in the water. I like the bamboo roof they use. This restaurant is not only in Malang but in other cities in Java as well.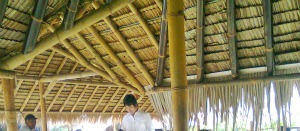 Indonesian like sitting on the floor while having lunch or dinner. They call it lesehan. It is relaxing but I can imagine that it's not so comfortable for some people, also if you wear skirt. This place is not only for lesehan. You can also sit on the chair as usual way.
As we wanted to enjoy the lunch and to relax, we went to lesehan tables. It was already late for lunch and we were all so hungry. We should be aware that we wouldn't order more food than needed because in this situation the eyes would be bigger than the stomach. Hopefully it is not visible in this picture.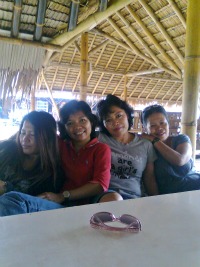 We ordered grilled gurami, crispy shrimp and shrimp in soya bean sauce, tumis kangkung (veggie), chili paste (sambal) and warm rice. And for drink we ordered orange juice.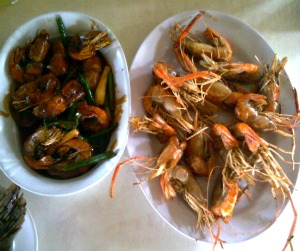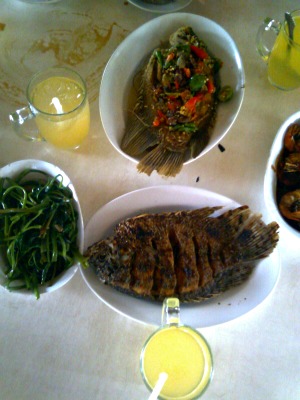 Usually we chat a lot. We always have things to talk about. But during this lunch there was silence. Everyone was busy with the delicious food on the table. The food is simple but the taste is so rich.
Indonesian food is very rich of herbs that grow on Indonesian fertile soil. With lots of different herbs you can make lots of different taste.
Mang Engking is a good place to try Indonesian tasty food and the price is affordable. They have packages for 4 people or more consisting rice, veggie, fish/shrimps/squid/crabs, etc.
In Malang you have enough choices of good local restaurant. If you try the local food for the first time you can ask the waiters/waitress to make non-spicy taste. You say in Indonesian "tidak pedas" (not spicy) or "tanpa cabe" (without chili).
Do you want to take a try as well? Here is the address and the telephone number.
Complete your adventure in Malang with this food adventure.
Return from Mang Engking to Holiday-Or-Living-in-Malang