Malang international schools
Different countries, different customs
and united in Malang
International schools in Malang? I never thought that Malang would have it. But there are two! Wesley and Bina Bangsa.
Malang is also called student city because it has lots of universities and other good schools. These two world wide education are parts of them.
It means that residents of Malang are from different cities in Indonesia and even from different countries. Foreign students in Malang are not just the children of the expats who go to international schools but also students from abroad who study at Indonesian universities in Malang.
Here I want to inform you about those two schools.
Wesley International School (WIS)

WIS is a Christian international school and uses basically American curriculum. It started in 1972 with just four elementary students. Now WIS has about 120 students from kindergarten to High School. It is not much in compare with other schools. The advantage is that students get enough attention and time from teachers. Even in the elementary school they have an Indonesian teacher assistance beside the class teacher.
Previously this school was only for children with foreign parent(s), and since a couple of years it is also open for Indonesian children.
The teachers and students are from different countries among others America, UK, Australia, Sri Lanka, New Zealand Malaysia, Korea, Germany, Netherlands, India, Taiwan and Indonesia.
With these differences you learn more. For example, elementary students have a project to tell about their home country from its government up to their food. You get the lessons from the "native".
There are kids who don't remember or don't know well about their own home country because they live abroad longer. So this is also a good chance for parents and children to learn together about it. It is always fun to let more people know about your home country, right?
The students don't just get told how the food is made but also get the chance to taste it. This is just an example. But for sure the differences make them richer of knowledge, more tolerant and flexible.
Located in a quite small resident area, WIS has good facilities that support the learning process like comfortable classrooms, laboratory, libraries, big multifunction gymnasium, soccer field, and gym for tennis and basketball. Beside it is blessed with a beautiful mountain view. After all it is a beautiful campus.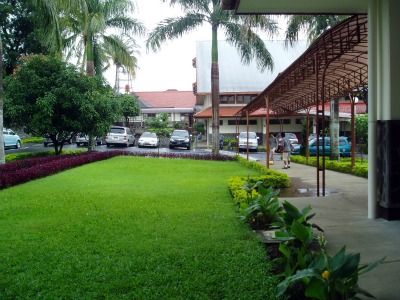 Your children will be enjoying the school life here as they will be welcomed in a nice and great Wesley family.
          For more information and contact please visit their nice website.
This is also a christian school and has Singapore and Cambridge curriculum. They have a program that students can finish their high school education in five years instead of six.
Like Wesley, the location is in Tidar area as well. But this coming study year they will move to their own building in Riverside housing complex that is located on the way to Surabaya from Malang.
Most of the teachers are from Philippines and most students are from Indonesian and some are from European countries. This school provides education for Primary School, Secondary School and Junior College.
For more information and contact, here is the address:
Jalan Malenggang 12-14
Malang
Telephone : (62)-341-565812
or visit their website.
I will update and add more information about international schools in Malang. So visit this website regularly to get updated.
Return from International schools in Malang to Holiday Or Living in Malang