Holiday Or Living in Malang
Experience it from the adventure side!

Life is either a great adventure or nothing.
Hellen Keller
Never heard about Malang (read: Muh-lung) before? Have you been here many years ago? Have you just heard slightly about it from friends or relatives who have been here? No matter if you have never or often been to Malang, take the chance to experience it from the exciting side, the adventure side. So ….. read along.

This piece of place in Indonesia is the second largest city in East Java, after Surabaya. However it is not a big city. Some people make a joke and say it a large village.
This "village" that has area of 110,06 km2 and population of almost one million, is surrounded by mountains and has cool weather. It has also beaches and waterfalls. What a blessing for this lovely "village"!
Fascinating Indian Ocean
In Dutch colonial time this flower city was a favorite place for relaxing and destination for retired Dutch workers, due to its beauty and clean, cool weather. You can see influences of Dutch colonial at lots of old buildings here.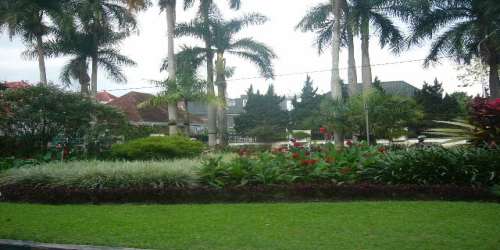 Garden at Ijen street
And I have to say, until now it remains a favorite destination to visit.
Malang is not just blessed with its nature. Another blessing is its history field. There are lots of heritage from centuries ago found here, like this temple as shown here below.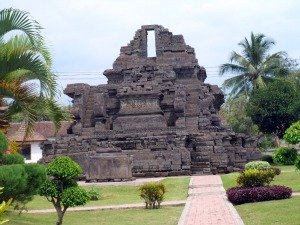 Candi Jago
One way to get the most out of life is to look upon it as an adventure.
William Feather
My first adventure of this city started in 2005, when I came here for the first time. I was born in Indonesia and have lived there for more than 25 years. Strange enough I just got the chance to visit it in 2005. I fell in love with it on my first visit. Immediately it felt like home even though I didn't have any family and just knew a few people here. That love is growing (I can't help it) and this website is a realization of it.

I love the simple and calm life here. I also got a desire to know more about this city. The adventure soul in me is re-born.

Every day my family and I enjoy our adventure life here and find it to be the nicest city in Indonesia. We like the people, the atmosphere, the weather, the surroundings, and most of all the nature just as if we were born and grew up here.

Adventure can be everywhere and is for everyone. You don't have to climb Himalaya mountain or to do bungee jumping to have it. In everything you do you can have an adventure. Keep it exciting! There is always something you can learn from everything.

Like this mountain. It is "greeting" me every time I go out and come home. It cheers me up. It never looks the same. Every day it shows me its other charm. It always looks delightful, especially in the morning after rainy night.

A good morning
Malang is not like New York with its modern life, skyscrapers and sophisticated infra structure. It is not like Milan either with its high class fashion world. It is even not like Jakarta – the Capital city of Indonesia - with its metropolitan status. Malang is small and simple and from this simplicity appears its beauty.

This small and simple city however has lots to offer. Some of things you'll find in this website for your holiday:
I'll show you as well things you should know if you live here, like where to find a house or school (if you are with children). I know people who have been here for holiday and some years later they moved here. Who knows?

I find more and more adventures in this city which I'd like to share with you. Let the adventurer in YOU appear and discover Malang tremendously.

I wish you unforgettable Malang adventures during your holiday or living here. Please come back again as I will keep this website updated. Or get informed about new contents or information at this website by clicking the (orange) RSS button on the bottom of the navigation bar. Feel free to ask me should any information you need is not available here or you want to know more about it. I'd love to hear from you.

Do you want to see more of this city? Take a look through this window.

Don't miss news about and from this city and get updated about what's new on the website? Let our Newsletter come regularly to you.
Sign up and Subscribe your email address here.

Now are you ready to get your Malang adventure with me? Let's start!