JAMBULUWUK BATU RESORT
Staying at the top of the world
Jambuluwuk Batu Resort is built on mountain Balai in Batu, about 30 minutes from Malang. This is an area where you can pamper your eyes with amazing peaceful view.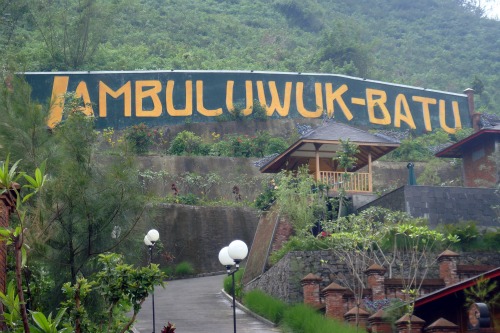 It is located on Jalan Trunojoyo on the way to Pujon at the left side. You'll see the sign board. It is close to Coban Rondo waterfall. I never heard about the plan of building a resort there, so it surprised me when I saw it. A resort of 6HA built on a mountain! I've never expected it.
The company behind this resort, ARCS House Group, uses architecture and ornaments of Indonesian traditional wooden house of Minahasa, South Sulawesi for the buildings. To name the villa's they use names of cities in Indonesia.
Beside in Batu, there are also other resort and hotel of Jambuluwuk. They are Jambuluwuk resort in Ciawi (West Java) and Jambuluwuk Malioboro Hotel in Jogjakarta (Central Java).
Jambuluwuk (pronounced as Jump-boo-loo-wook) is a name of a fruit. It is also a name of a village in Ciawi. The funny thing is, there is also a place in Batu (Songgokerto village) with that name.
This resort offers villa's. There are 31 villa's; 10 villa's have four bedrooms, 20 villa's have three bedrooms and 1 VVIP villa has four bedrooms and a private swimming pool.
Basically the lay out of all the villa's is the same. Here I tell you about one of them, villa Samarinda (a city in Kalimantan/Borneo island).
The villa has two floors. Each floor has 2 big bedrooms, wide sitting room, big kitchen provided with refrigerator, stove, utensils for cooking, and water dispenser. The bedrooms are big and provided with 2 single beds, bathroom inside, and wardrobe. There are also balcony on each floor where you can see the breathtaking mountain view or beautiful garden and swimming pool around.
You can stay with more than eight people in this villa but the breakfast is just for 8 people. Of course you can get breakfast for more people with additional cost. Extra beds are also available with price
IDR 120,000-150,000.
Here are some of the picture's of villa Samarinda.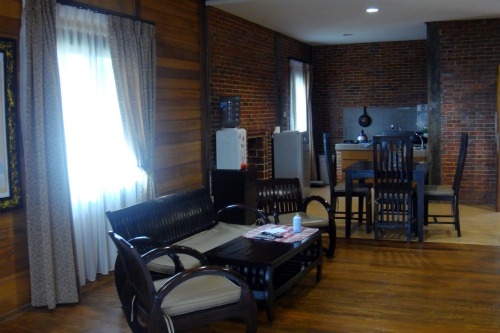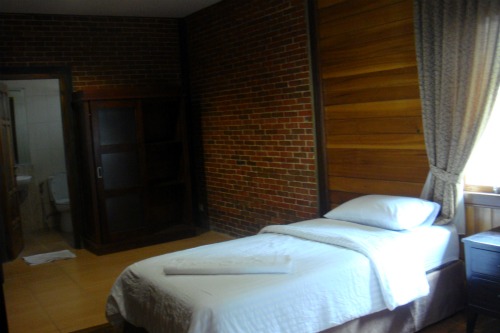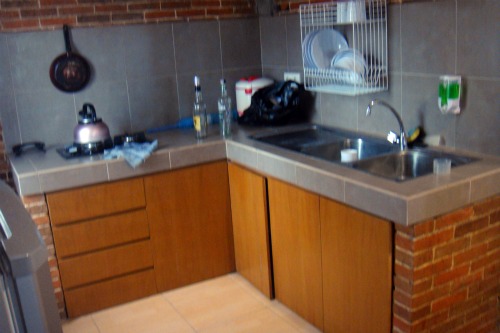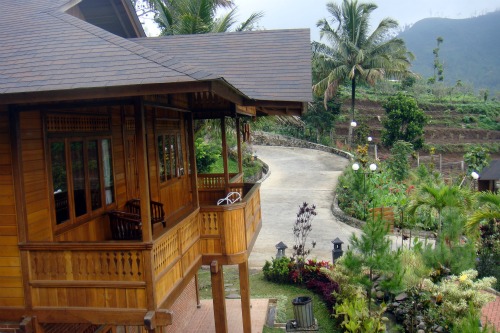 Even though this resort just had the soft opening last year, many people have visited and stayed here.
Jambuluwuk resort Batu is a relaxing place for family or friends, anyway with a group of at least six people if you want to stay. You can also have your (family) gathering or party here. For such event they have 4 halls with different sizes and equipment. The biggest hall is shown like the picture here below.
The balcony of villa Samarinda faces an amazing Batu mountain view. I could stand there for hours without doing anything except pampering my eyes with the nature beauty. Where ever you look, you see the greenish and bluish nature. I might just enjoy taking pictures there. I am just afraid that I couldn't stop it.
This villa has also swimming pool view. The blue water of the swimming pool becomes a part of the whole scenery. You can feel the clean and fresh mountain air. You feel your body and mind refreshed and healthy.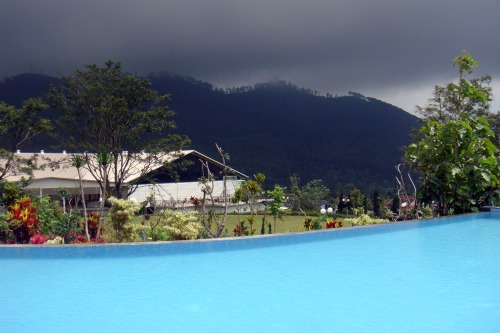 Mr. Imam, the marketing, has accompanied us (my friend, Nany, and I) to take a tour at this resort.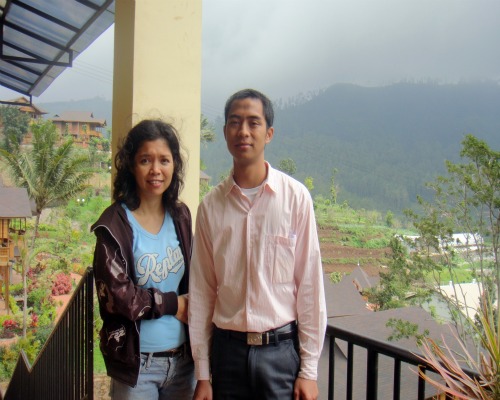 Every time I wondered how beautiful the scenery was, he said this was not the most. We started from the bottom of the mountain and go higher. Yes, it is like hiking and could be tiring but not boring. If cold air makes you want to eat more, then it is good also to move more to give a balance.
He is right. The higher you go the more beautiful the scenery. The "hiking" is worth it!
The last place we go in this resort is the VVIP villa. It is at the peak. This picture below is the gate to the VVIP villa.
The VVIP villa has its private swimming pool. You must be in good condition to swim in this temperature, I think. But after swimming your coffee or tea would taste much better.
The view is breathtaking. You see down there Songgoriti, a small village between mountains.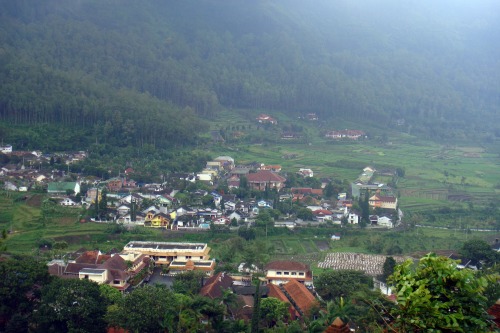 In front you see mountains with its proud look, covered with clouds as its roof and sky that is so close to mountain. All are so calming and peaceful. It is the best point to see the view, to get the feeling of the top of the world.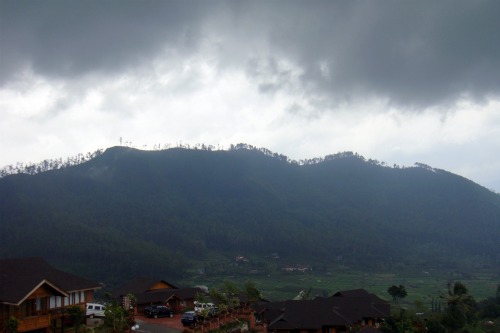 When I was there it was cloudy but it didn't reduce the beauty of the nature there. Thunder in the far woke me up from my dreaming and I realized that I had to go downwards.
Jambuluwuk doesn't just provide villa's to stay. For them it's also important that their guests stay healthy and this resort supports it with three swimming pools and a big sport hall. In sport hall you have gym, fields for tennis, futsal, badminton, volley ball and squash.
If you stay in a villa here you can for sure cook by yourself but if you don't have time or mood to cook (come on..…this is your holiday), restaurants are the best option. There are two restaurants. They serve Indonesian/Chinese and western food with affordable prices. Or you just can come to enjoy your coffee or tea and beautiful view. Here are some pictures of them.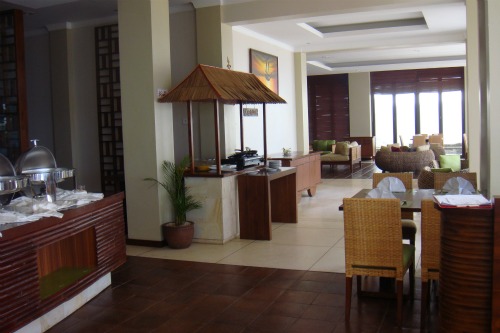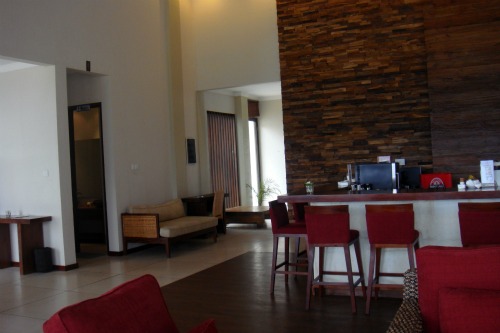 Special for the small and young guests Jambuluwuk resort has playground with big space so you can watch them easily.
And for the ones who love challenge and who want to get adrenalin in just one second there is flying fox with the height of 200 meters. With paying IDR 60,000 you can do that and it is available every day. You don't have to rent a villa to do this.
Here is the start place.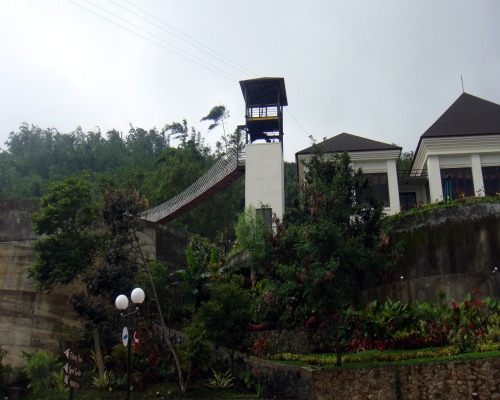 And there you go……….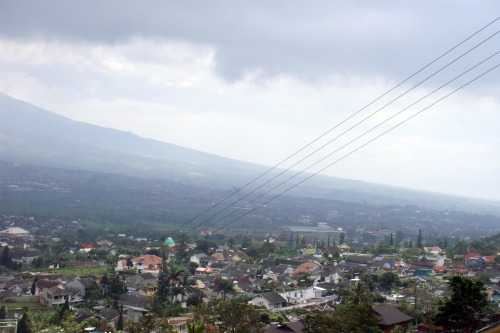 Jambuluwuk is a resort where you wouldn't get bored. Enough to do, enough to enjoy. Make it as a part of your unforgettable holiday!
Return from Jambuluwuk Batu Resort to Holiday Or Living in Malang