Padi Restaurant
A Good Choice for Western and Indonesian Food

The actual name of Padi restaurant is Padi Resto Galeri. The name says already. Beside enjoy the food you can also enjoy items they put for showing. There are among others paints, vases, ethnic ornament/jewels.
Padi means rice. It is not rice you usually eat but uncooked rice of paddy plant.
The word padi or paddy gives you thoughts about paddy field, calmness, just hearing voice of the nature and of course, green.
Although Padi restaurant is not located in the middle of paddy field and you don't just hear the voice of nature there, you feel the calmness when you enter it. The building does not have village-look either but the waitress wear traditional clothes.
You'd think that this restaurant just serves Indonesian food. Nope…. They have more; western and also Chinese food.
From Indonesian specialties I like the Nasi goreng Padi (Padi Fried rice) and Kakap bumbu ketumbar (Fried snapper with coriander)

From Western food I like fish (Salmon, Gindara) and steak (all of them!). Hmm……..speaking of food, I get hungry.
Here are pictures of some of the food.
The Appetizers

The Main Course

The Desserts

They have yummy non-alcohol drinks, like this one.... Padi ginger drink,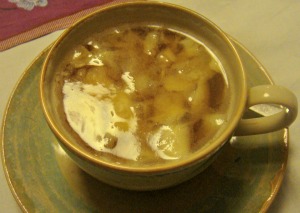 and for alcohol drinks lovers, beer and wine are available.
Padi restaurant is mostly crowded in the week end. It is wise to reserve tables especially if you come with more than 2 people. Live music is available also in the week end. For some people it can be too noisy. I recommend you to come during the week or you can sit in one of two big rooms upstairs.
The building was a residence of a Dutch during Dutch colonial era in Indonesia. It is built by Dutch architect as shown on the first stone.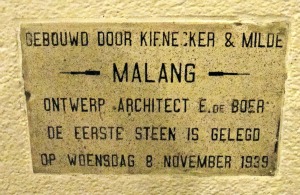 This restaurant is located in jalan Pahlawan Trip. This is a side street of Jalan Ijen.
Due to its beautiful building and big front yard it is often used for birthday party, family gathering/celebration or even a wedding party. Actually it is better always to make reservation, just to make sure and to avoid disappointment.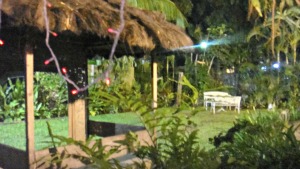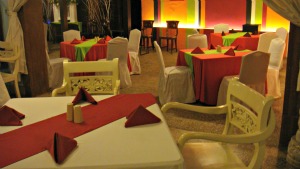 The price is affordable and the good news is, they can give you a member card if you live in Malang. With this card you can get discount of 10% every time you eat there.
Here I am with friends from Holland. We all look happy. I wonder why.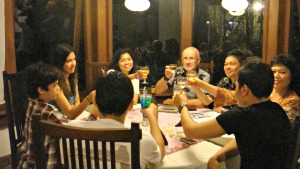 Return from Padi Restaurant to Holiday Or Living in Malang