Taman Indie Restaurant
A beautiful garden restaurant

Taman Indie restaurant serves Indonesian and Western food in old timer atmosphere with modern nuances. The name means Garden of Indie. This is indeed a beautiful garden restaurant. It brings you to Dutch colonization time. Indie (now Indonesia) was Dutch West India. But it is not about the colonization. It is about the atmosphere of old time.

This restaurant is built in the middle of Araya housing complex. It is located outside of Malang city, about 25 minutes with car. Its big area is used well and nicely. A river passes this restaurant and there is a bridge over the river. Along the river you see paddy fields.
When good friends from Holland came to Malang, we went there for dinner. In the evening there is light along the side of the bridge and in the restaurant itself. My friends really liked it; the food, the view, the atmosphere, the place.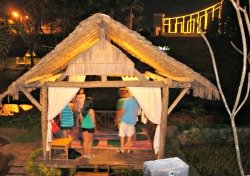 They were curious to see everything there in the afternoon. So we went back again couple of days later to have tea and some snacks.
The specialty of this garden restaurant is Indonesian food. It tastes well and the way they serve the food adds more favor and appetite. They use banana leaf, bamboo plate and traditional pottery bowl as shown on the picture here.
Before you taste the Javanese cuisine you can also "taste" the traditional Javanese kitchen first. They call it Pawon. You can see how they cook on traditional way, the utensils and other things they use in their kitchen and feel the atmosphere. Back to situation of many years ago.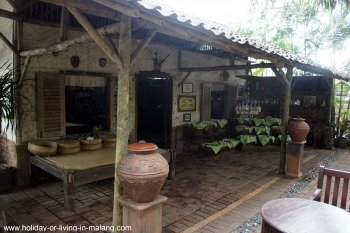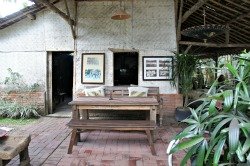 Like many restaurant that serve Indonesian food, Taman Indie has also tables for lesehan, where you sit on the floor. They built bamboo huts with nice design. You can choose one of them, with lesehan tables or not. You don't have to share it with other guests, more privacy and more comfort.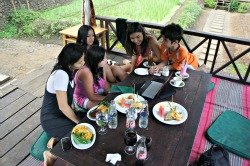 It is usual in Malang that restaurant can also be used for other events like gathering and parties (birthday-, family- or wedding party). Taman Indie has a good location and view for this. So don't be surprised if you come and there is a party. But then this restaurant is still open for public because they always have area for public.
Like I said before, they also have western food which is also tasty.

The price is more than average restaurants but they give discount up to 20% if you pay using credit card of some Indonesian banks. Just ask the waitress before you pay.
Here are more pictures to give you more information (mouse over the image to see the description).
If you are in Malang, make time for enjoying food or meal here. The address is at Jalan Lawang Sewu Golf no.2-18 Kota Araya Malang. Telp : 0341-417777.
Return from Taman Indie Restaurant to Holiday Or Living in Malang.