COBAN PELANGI WATERFALL
One more beauty of Malang, Coban Pelangi. Located in Poncokusumo district, about 35 km from Malang city to east, it is an area of Semeru Mountain, the highest mountain in Java. If there's sun ray you can always see rainbow there. In Indonesian rainbow is called Pelangi. That's why it is called Coban Pelangi or Rainbow waterfall.

I went there with a friend on a Tuesday. I don't want to go in the week end because I expected lots of people going there. We have rainy season in this month (November) so that day was cloudy. Still I hoped that the weather would be better because I want to see the rainbow at the waterfall.

Coban Pelangi has a height of 110 m. It is higher than Coban Rondo and Coban Ondo.

Starting in district Tumpang you'll see greenery along the way. The air becomes cool as well. It is like Cangar in Batu. But here it is not so crowded which is better. Maybe because it is less known than Batu.

You will see a direction board to this nature beauty. Then we entered area Poncokusumo. On both side of the road you'll see apples garden. We saw the white flowers and the green apples. It was misty but we couldn't help not to stop for taking pictures. Good that there's not lot of traffic so we could stop easily where we want.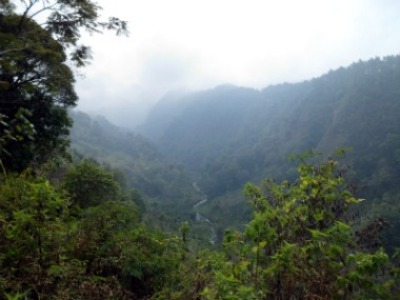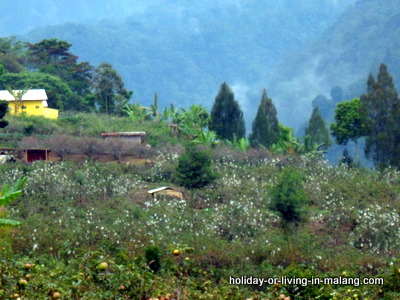 The way became smaller, it misted more and the air became cooler. Finally we arrived at the entrance of the waterfall. Our car was the first car in the parking lot but I saw lots of motorcycles. We pay the entrance IDR 4,000/person and for the car IDR 2,000 for the whole day. There are food stalls where you can buy drink (mineral water, some soft drink, tea and coffee) and snacks here.

Then our walk to the Rainbow waterfall began. We walked through path which is made of cement and sometimes just ground. It is more difficult and farther than the path to Coban Rondo. You have to walk about 25 minutes. But your tiredness would be flushed away by the beautiful nature. Along the way there are also food stalls, so you can stop and having a drink whenever you want.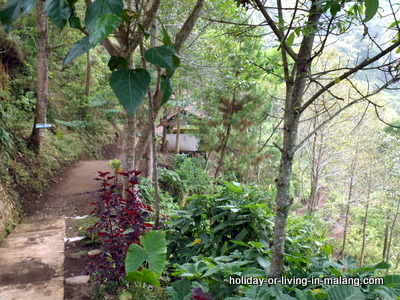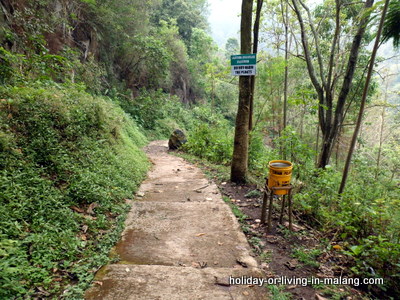 After walking a while we arrived at a rest point where you can see the surrounding nature. We saw a bamboo bridge down there. What a view and the calmness and the greenery!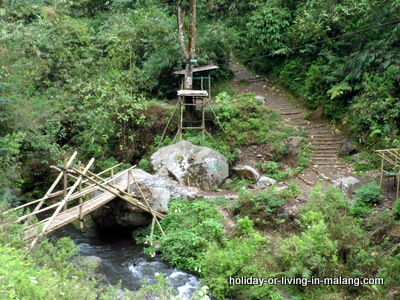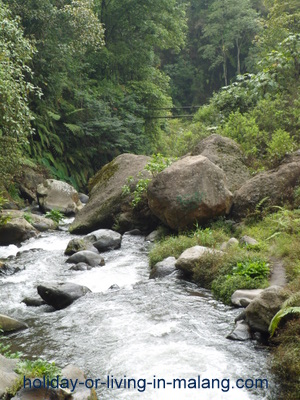 After crossing the bridge, we walked further on the trap path and ……
there is the Coban Pelangi waterfall…..
We didn't want to see the waterfall just from the far. We went closer and closer although we needed to go in the water to get there. The river is called Amprong river and the water is cold, clean and fresh. Anyway you'd become wet by the splash of the waterfall. No problem at all, we had change in our bags.
Here I was just close to the waterfall. There is mentioned of danger of landslide and you cannot go to get under the waterfall. So, be careful.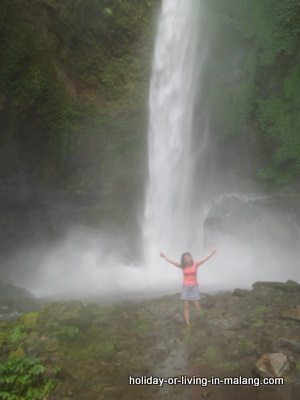 Here are some other picture we have taken.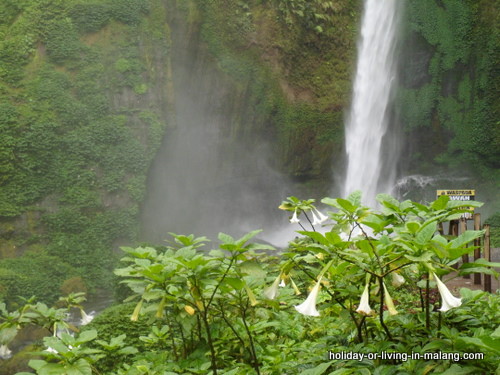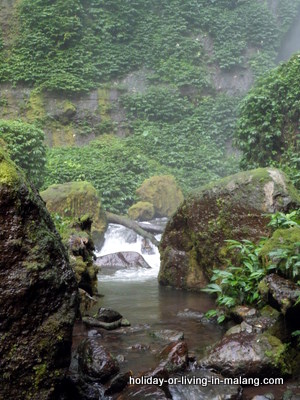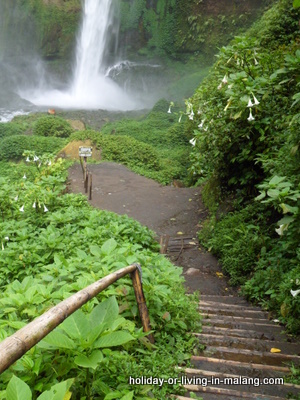 We would like to stay longer there, to play more in the water, to make more pictures and just to enjoy the natural beauty. But it became darker and we heard thunder from a distance. So we decided to go back.
When we crossed the bridge, it started to rain and after we had changed our clothes in a toilet there, it rained very heavily. So we stayed in a shelter and had coffee and snacks while waiting till the rain stopped.
But I miss one thing. Yes…….the rainbow! What did it mean? It means that I have to come back. Sure I will! Are you coming too?
Return from Coban Pelangi Waterfall To
Malang Beaches and Waterfalls
Return from Coban Pelangi Waterfall to Holiday-Or-Living-in-Malang