CANGAR
A Pleasant Destination in Batu
for Relaxation
Cangar is an attractive mountain area in Batu. It is about one hour from Malang city.

It has a warm water spring and they made swimming pools using the water. It's very good for your health to swim in warm water in a cold weather. Especially as they said that the water is very good against skin disease. But before you feel the warm water in swimming pool, you will be served beautiful and eye-catching view along the way.

Due to the cool weather this area is very good to grow fruit as apples, strawberries and vegetables as carrot, potato, and cauliflowers. Along the way you see vegetables garden. Sometimes you see people working there as it is its harvest time.

Like the day when we were there, local people were working on potato garden. A car was waiting for loading and it will transport the potato to vendors. The people are friendly and it was no problem for them that we took pictures of them.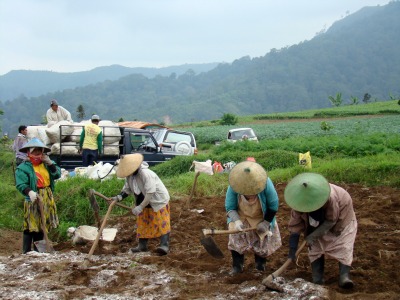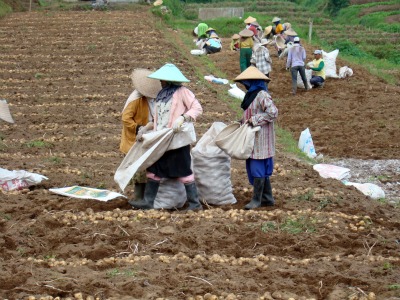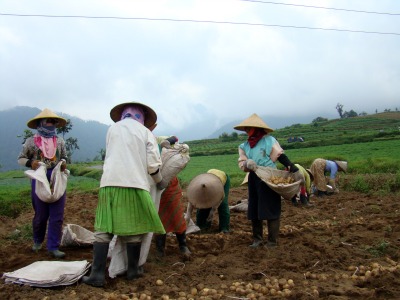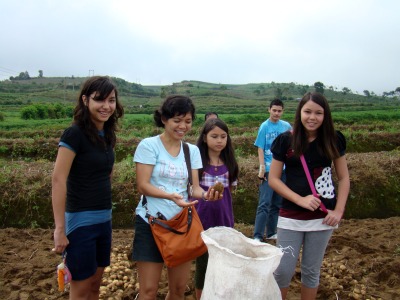 Then if you go further in the direction of the hot water spring, your eyes will be pampered by bluish mountains and green plants.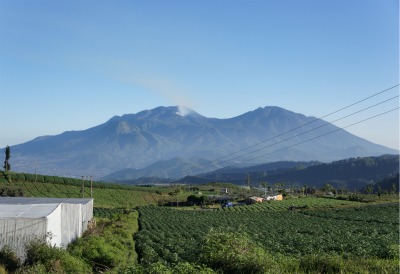 Trip to Cangar is exciting and makes you feel fresh. While driving the curve road you'll enjoy the view, but be careful for the traffic from the opposite direction. The road is not wide and you'd tend to look at the surrounding. So always be watchful.

We entered the warm water spring area. We had to pay the entree and then went downwards to the pools step by step through the made-by-cement-stairs. There are two kinds of pools, swimming- and sitting pool. While you sit in the pool as shown here below, you can enjoy the greenery in the surrounding.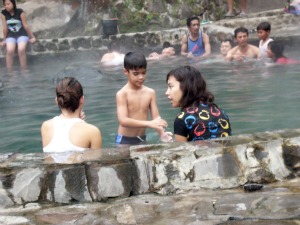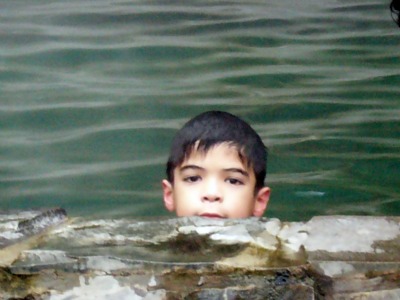 The swimming pool is beside this sitting pool.

In this area you can also visit Japan cave. It is just about 500 meters upwards from the swimming pool area.

This is a place of tourism in Batu known well for the warm water spring and Japan cave. During the weekdays it will be not crowded as people tend to go in the weekend. People come here for swimming or just enjoy the cool and clean air and beautiful view.

On the way back we stopped for a while for taking pictures again.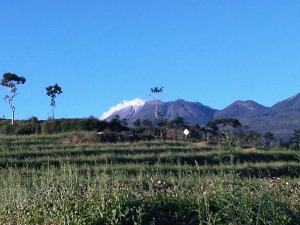 This is also a good place for flowers lovers. Local people use their front and back yard to sell flowers/plants. Of course the price is cheaper than in Malang and you can bargain though. So enough reasons to come here.
---
For information about another place to get out of the city crowd, visit Brisbane walkabout's page
Rockhampton, Australia
.
Return from Cangar To Malang Activities
Return from Cangar to Holiday Or Living in Malang