JAPAN CAVE IN CANGAR BATU
Japan cave, a silent witness of Japans history in Batu. It is located close to hot water spring in Cangar. Both are in the forest but in the different area. You need to walk about 500 meters upwards from the hot water spring. Although there was a path you must be careful. The path is not maintained well and dry leaves make it slippery.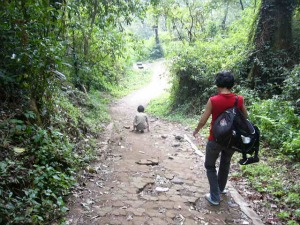 If you look around you can see nice greenery.

I have been there for several times and the pictures you see here are made from different visits.

The walk upwards was a bit tiring. But after walking for a while we saw the cave. We can see its darkness inside. It seems so mysterious.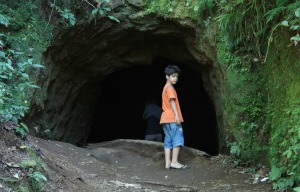 The walk upwards was a bit tiring. But after walking for a while we saw the cave. We can see its darkness inside. It seems so mysterious.
When I was there for the first time, there were 2 other people, a boy and a girl. I decided to go in. Anugerah wanted to go with me but Pelangi just stood outside. She would take pictures, she said. Hmm.... nice reason if you are afraid in the dark.
Then we walked in, the 2 teenagers were behind us. After about 3 meters we couldn't see anything. The girl was afraid and went directly back to outside. Then it was just three of us. We need to stop and let our eyes adapt to the darkness. Then we walked further but after 1 meter we stopped again. The ground is not equal. The air became colder and very humid. We got an uncomfortable feeling so we went back outside. We took a picture inside but it was too dark so the picture is just black.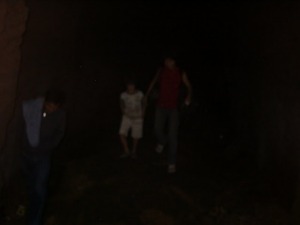 This following picture is better because it is taken just about 1 meter inside the cave.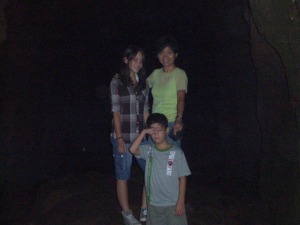 Not long after the first visit, we went there again. This time we brought flash lamp and went inside together. Again Pelangi just wanted to wait outside. This time we walked further than the first time. After a while the flash lamp didn't come out in the darkness. But we could see another wall of the cave. It's still further and again the uncomfortable feeling came again. So we just went back outside.

It is too bad that there is no story about this Japan cave. From the name we know that the Japan soldiers have used it. But, when? What for? What happened there? My children have also questions. How did they found the cave? Did they make it? If so, how? What have they done in the cave? How long did they stay there? How many people were there? Did they have to climb to get the cave like what we did? Has somebody found his death there? Have Indonesian people also used this Japan cave?

Just at my fourth visit we could enter the cave and reach the other wall thanks to our friends from Holland, the brave girls, Bella and Monica. Also during this visit we finally heard the story about this cave. It came from a vendor at the entrée of this area.

While we enjoyed our hot coffee the vendor told us about the story. Japan soldiers had ordered Indonesian people there to grave and make a cave for them. Japans period in Indonesia was in 1942 till 1945. They used the cave as a place for defense and logistic supplier. The length of the cave is 12 meters. Many Javanese people became victims during that hard work.

That was very sad and terrible. Imagine that this people had so little tools for this hard job. You had to go through the forest to do the difficult work in the cold with I'm sure, so little food as well.

It must be very heavy since they also had to bring lots of things and must do it very carefully so the enemy couldn't hear or find them. I think something horrible has also happened there. Maybe a murder or hara-kiri? It could be. It was after all a war.

This Japan cave in Batu is an interesting place to visit. If you are not interested in history you will for sure enjoy the walking and the forest.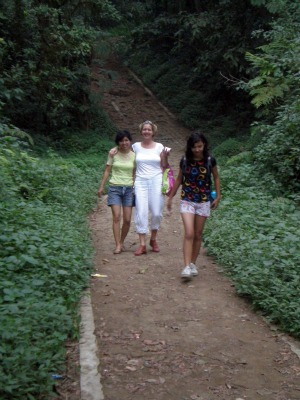 Return from Japan Cave To Malang Activities
Return from Japan Cave to Holiday-Or-Living-in-Malang