A GUEST HOUSE AT JALAN IJEN. WISMA JASA TIRTA I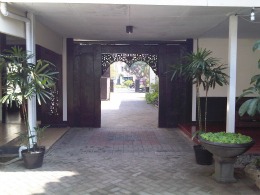 Address: Jalan Ijen no.52 Malang
Phone: +62-341-325882
Wisma Jasa Tirta I is a guest house located in the boulevard of Malang, jalan Ijen. Unfortunately the building has old-fashioned-Dutch architecture. It has been running less than a year but according to Mr. Timbul, one of the employee there, they always have guests either from local and abroad.
Some of foreign guests are Dutch people who want to get the remembrance of the past. Some of them have founded the house when they lived here. I hope someday I can meet these people. I would like to hear their stories.
This home stay is owned by government. Wisma means house and Jasa Tirta is the name of the company.
There are 10 rooms consisting of VIP (4x)and standard (6x) rooms. According to the GM, Mr. Herman, at this moment they are not planning to expand this business because the company has also hotels in other places.
Here below you can see some pictures and the price of the rooms.
VIP Room (IDR 550,000). To convert to USD or other currency click here)



Standard room (IDR 275,000).
The price is included breakfast (Indonesian or westerns). Both types of rooms have AC, private bathroom but only VIP room has hot water for shower. Free wifi is also provided here.
The location is great. You can take a walk along the street. Restaurants are in short walk away. But if you don't have mood to go out, you can make use of the restaurant they have that is open in the morning till evening (10.00pm). They serve either Indonesian and European food.
I like the location, the building and the interior. There are also enough sitting areas as shown here below.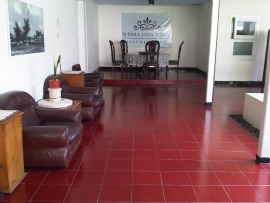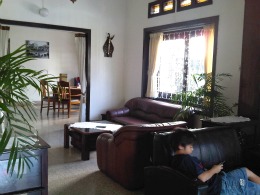 Here I show you other pictures of this place to give you more visual information.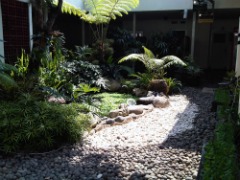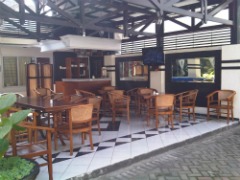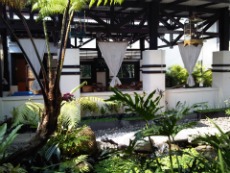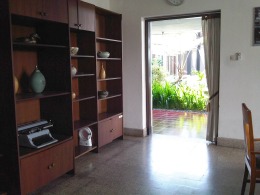 Return from A Guest House at Jalan Ijen. Wisma Jasa Tirta I To Malang Guest Houses
Return from this page to Holiday-Or-Living-in-Malang