MERBABU GUEST HOUSE
A nice and clean place to stay in Malang
Merbabu Guest House is located in a good residential area. Shops, ATM are not in walking distance but it just takes 10-15 minutes with a car to get there. Places for having food are close and several restaurants are just around it.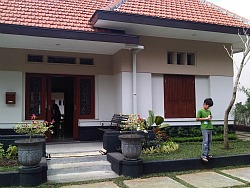 This clean place to stay is new, just started in June 2011. All of the children of the owners are living somewhere else and the house has been empty for some years. A house is much better to be occupied than being empty, right? So they start to run this family business. On this way they can keep the house although they don't have to live there.

Merbabu
is a name of a mountain in Central Java. They use this name because it is the name of the street where this guest house is located. You can also take a walk in this area. The houses have
old-fashioned-Dutch architecture
. In the colonial era many Dutch people lived in this area. It is very close to
Jalan Ijen.
This home stay has 11 rooms with 3 different types, Superior, Deluxe and Suite. The interior of the whole building is nice. Every room is provided with a television (with international channels), air conditioner, an inside bathroom and you will get 2 bottles of water every day.

The price of rooms is including breakfast. They offer you simple continental- and Indonesian breakfast. You can order extra coffee or tea any time.
Here are the rooms at Merbabu guest house.
Superior. There are 5 rooms Superior and every room has 2 single beds.




Deluxe. There are 4 Deluxe rooms and every room has a king size bed.




Suite. There are 2 Suite rooms and every room has king size bed.

The suite rooms have their own big sitting room. This is a good option if you are with your family. One suite room has a partition between these rooms.
They also have a room for driver (2 persons).
There is a small but nice garden where you can spend your free time. Or just take your laptop and continue your online work by using free wi-fi. It is only available in the sitting area near the lobby.
Do you want to know more how this guest house looks like? Just take the virtual tour here.
(Mouse over image to see the description)
Address : Jalan Merbabu 26 Malang

I wish you a comfortable stay in Merbabu Guest House.
For booking or more information you can do it here.
Return from Merbabu Guest House To Malang Guest Houses
Return from Merbabu Guest House to Holiday Or Living in Malang