PEYE GUEST HOUSE
Peye Guest House is located in a quiet residential area. It is in walking distance to ATM's, a shopping mall, food stalls and an American fast food restaurant "Wendy's".
This house has a good lay out. The rooms are quiet big, clean and neat with a simple private bathroom (no bath tub). All rooms are provided with a television and AC.
For the owners the comfort for the guests is important as you can see at their open sitting rooms. They give you space and you'll feel home atmosphere.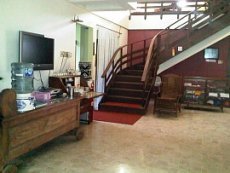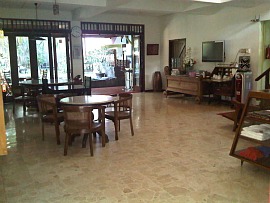 Not just inside, also outside……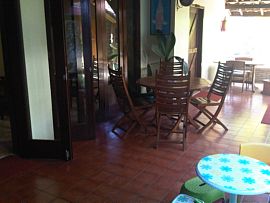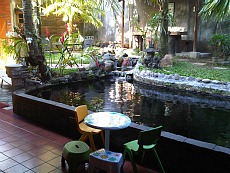 and the sound of water in the pond helps you to relax.
There are 11 rooms with different types. At the time I was there, all the rooms were occupied so that time I couldn't take any photo of the bed rooms. There is one room outside the main building and beside the pond. If you love the sound of water, like me, this room could be for you. You can park the car in front of the room so you don't have to go through inside the house.
The prices range from IDR 290,000 till IDR 400,000. You can check the currency here.
Like other guest houses, this one has been a residential (just a normal) house. A family member gave a suggestion to make it as a home stay. Then they moved to another house not far from the guest house so they still have control of it.
Here you get free wifi, tea and coffee in the sitting rooms. You can choose bread or Indonesian fried rice as breakfast. They also give you laundry-service with additional price.
To read more about Peye Guest house and to get the updated prices of rooms click here.
Address : Jalan Simpang Dieng no.1 Malang
Telephone : +62-341-561642 / 7437008
Return from Peye Guest House To Malang Guest Houses
Return from this page to Holiday-Or-Living-in-Malang