Jatim Park II

Recreation Park in Batu With Secret Zoo
And Animal Museum

Jatim Park II  (abbreviation of Jawa Timur) is located next to Jatim Park I. The main idea is similar; learning on fun way and it is suitable for people with ages 0-100.

There are three main parts on this Park. They are Museum Satwa (Animal museum), Secret Zoo, and Tree Inn Hotel.
Batu Secret Zoo
Here you find animals that not available in other zoo's in Indonesia, like lemur, white tigers, white lions, white raccoons, white peacock, water mouse, white kangaroo. You can also feed wild animals like bears, lions, and tigers. These wild animals are placed in a big, open space and it has glass wall which makes the distance to visitors closer.
There is a path that you have to follow. Through this way you'll pass all animal places and cages and see them, if they don't hide of course.
Here are some pictures of the animals.
Insect

In the water

Mamals

Look at their funny and cute behaviors.....

In Secret Zoo you'll also see Savannah. In Savannah there is traditional African village with African atmosphere. There are huts with roof made by straw where pigs and other animals walking around. You can see it all without having to feel the heat because you watch it from behind the glass wall.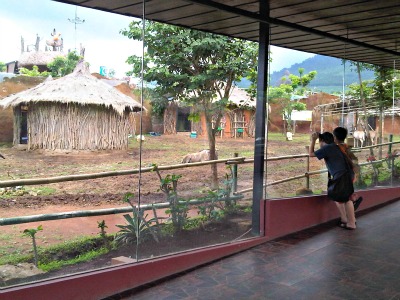 There are also some African music instruments that you can play.
Food court and Snacks corner are available in the Secret Zoo. There is even a swimming pool for young children. While your children swim and play in the water you can take rest and enjoy your cup of tea or food in a food court there and pamper your eyes with the nice view surrounded the place.
Musium Satwa (Animal museum)
Built with the architect as the White House, the museum has dinosaur's fossils with its real size. There is also a handy path that leads you to see all kind of fossils. It has another entrance than Secret Zoo.

Tree Inn
You can combine the visit to this park with stay at the Tree Inn. At Jatim Park II you can stay between the trees in Tree Hotel. The hotel is designed on the way as if you enter a big tree with many facilities for your comfort. You get entrée pass to the park that is including the room price.
Make time to visit Jatim Park II and I advise you to go there at or close after the opening time so you have enough time to see everything there because it is a big park. You can also visit the both park Jatim Park I and II with combined entrée price.
Ticket for Jawa Timur Park II (Jalan Oro-oro Dombo no.9 Batu)
tel : 0341-5025777
Open: 10.00 - 18.00 WIB
Batu Secret Zoo
Monday to Thursday IDR 55.000
Friday to Sunday IDR 65.000
Museum Satwa
Monday to Thursday IDR 20.000
Friday to Sunday IDR 20.000
Jawa Timur Park II + Museum Satwa
Monday to Thursday IDR 60.000
Friday to Sunday IDR 75.000
Tiket Terusan (combined ticket) Jawa Timur Park I & Jawa Timur Park II

Monday to Thursday IDR 100.000
Friday to Sunday IDR 120.000
Return from Jatim Park II to Malang Activities

Return from Jatim Park II to Holiday Or Living in Malang