SEGORO ANAKAN
Breathtaking And Amazing Lagoon in Pulau Sempu

To get to this breathtaking and amazing Segoro Anakan lagoon is not easy. But the whole hardworking is for sure worth it. You'd be happy that you did it.

This lagoon is in Pulau Sempu and Pulau Sempu is an island that is located just about 10 minutes from
Sendang Biru beach
.
After six weeks from my first visit to Sendang Biru beach, I can make to come back there again. We went with 6 people, 2 mothers and 4 children. Our destination is Segoro Anakan.

I've tried to collect information about this place but there is not much. From the information I got it will take about 2 hours walking to Segoro Anakan. We have to go through the forest but they said that there is a path you can just follow. So it would be no problem if you go there without a guide. I thought, hmm.…we'd have a nice forest-walk then.

We'd go early in the morning so we would have enough time to stay there and can go back before dark. No one of us wants to walk through the forest in the dark.
On that day we got up around 5 am to prepare our breakfast and lunch. We put bottles of water in all bags. Each of us will carry a back pack. At 6.30 am we started our trip to Pulau Sempu. We rent a car (Toyota Kijang) and with 7 people including the driver we could sit comfortably.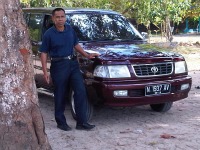 We had our breakfast in the car and we chatted. But after a while I didn't hear anyone talking. When I looked back (I sat beside the driver), I know why.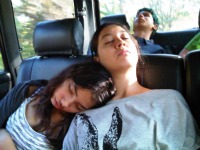 Yes, they went to bed very late and had to get up very early. Good that they slept now because later we had to walk far.
The trip from Malang to Sendang Biru took about 2,5 hours. Around 9 am we arrived there. The blue sea water refreshes our sleepy eyes.
Pulau Sempu is a nature preserve with the area of 877 hectare. To go inside the island we need permission from an office of Forestry Ministry. When we were there, the office was still closed but a man who lives beside the office helped us.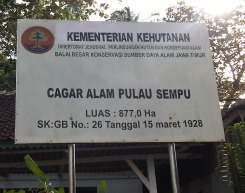 We could get the permission and I need to leave my ID card and pay IDR 40,000 for all of us. We also asked a guide to accompany us. Then the man called a guide to come.
The man apparently owns rent-slip-free-shoes, specially made for walking in Pulau Sempu.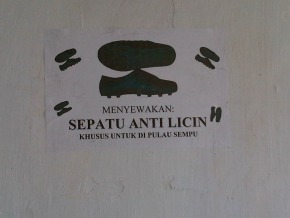 We looked at our feet. We just wore sandals. "It's ok if you want to wear sandals but I think it would be broken", the man said to us.
Then the guide arrived. His name is Mr. Ichsan. He took a pair of those shoes. Well, if the person who goes there back and forth for so many times wears these non-slippery shoes, why wouldn't we? The shoe rent is IDR 10,000/pair. They are just simple shoes, made of rubber. You should wear socks to avoid chafing. But we didn't bring any so we just wore it without socks.
They had different sizes, from 33 till 43. Anugerah was looking for the smallest size. He got them but he was disappointed because all shoes have the same colors. So, no choice for him.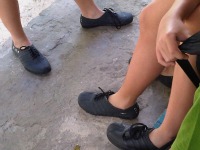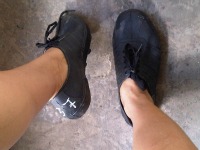 We took a boat to Pulau Sempu. We had apparently the same boat as our first time here. The boat dropped us at Teluk Semut (Ant bay).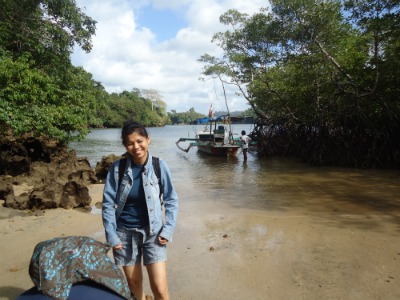 From there we started our walk inside the forest to Segoro Anakan. Here is the begin of the path in the forest.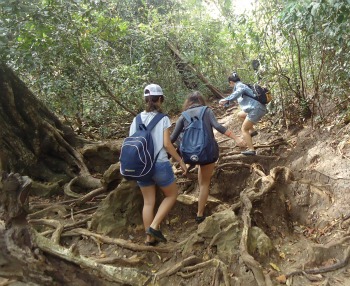 What?! Path?! This is not path at all! For me a path is a small way that you can see where it goes. Here we cannot see the direction of this way at all. We were relieved that we had a guide and more when we heard that there are still wild animals in this forest, like tigers, lions, monkeys, etc.
Mr. Ichsan told us about his experience as guide. He does this job more than 4 years. He is nice and very helpful. He carried 3 bags, 2 were ours and 1 is his. In our bags there were some bottles of water. He could walk fast and never complained that the bags are heavy. I asked him about the drink water if people want to stay overnight there. He said that he ever brought 1 gallon water. I was speechless. Bringing 1 gallon water through this way? Six thumbs up for him, if I had.
My son started to complain that I brought him to the place like this but after a while, he walked just behind the guide leaving his mom behind. He liked to hear stories about (wild)animals from the guide and he didn't want to stay away from the expert if those animals appeared. The good news is that most people never see those wild animals there but monkeys.
I never imagine that we had to go through such challenges but I enjoyed every minute of the trip. It made us more exciting about what we would get at the destination. We were also happy with the shoes. They were really helpful for such condition. Along the way we saw many broken shoes, also from good and known brand.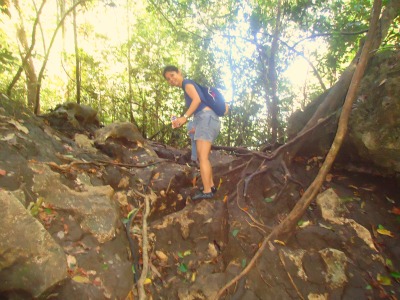 I was thankful for the good weather we had. In the forest we still could see the sunshine and the sky so it's not really dark and humid.
At the half way - according to the guide - we took rest. We sat on the toppled tree log and had our drink. That was good for our body and of course for our load too. Here are the pictures. We looked tired but still happy, right?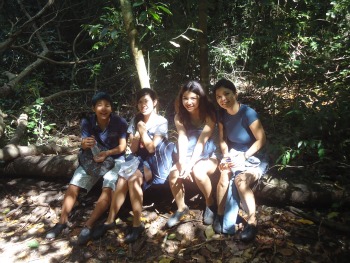 This is our guide, Mr. Ichsan and the bags he had to carry.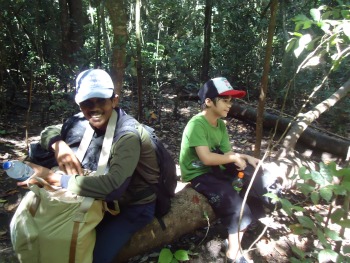 After resting about 15 minutes we went further. I couldn't wait to see how Segoro Anakan looked like. After a while we saw something blue… Yes, Water of Segoro Anakan lagoon!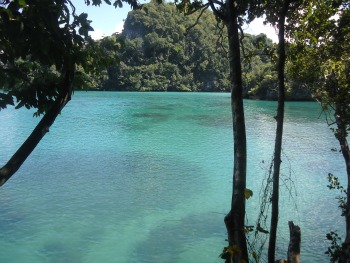 We could see a hole in the coral reef where sea water from the Indian Ocean goes through into the lagoon.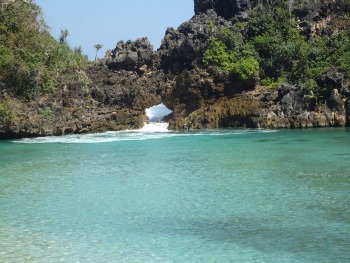 I must stop to realize how beautiful it is. We made already lots of photos but we heard our guide calling us to keep walking. Yes, he's right. We weren't there yet. Although we already saw Segoro Anakan apparently we still had to walk about 15 minutes to get there.
The children and the guide were ahead. Once we were there here was what we saw.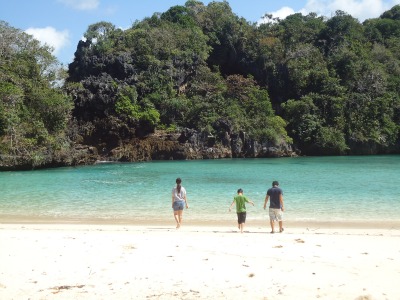 The atmosphere is so calm and peaceful. We went inside the lagoon, felt the fresh water. We swam, play sand, having our lunch, and swam again, enjoying the lagoon just for 7 of us.
I looked around the beach. It is surrounded by forest and rocks. At the other side of the rocks there is the Indian Ocean. Then I went around the beach. I saw black coral reef. Suddenly I saw splash of the wave from the ocean. It must be a big wave so it could pass the coral reef. I really wanted to see the ocean. To be sure that it is okay, I asked the guide whether it is allowed to climb the reef. He nodded.
No one else was interested to go with me so I just went there by myself. I have to climb very carefully because the reef is very sharp, step by step. It looked a bit scary though because of the black color of the reef. But the curiosity to see the other side of the reef overcame my worry. Finally I was up there.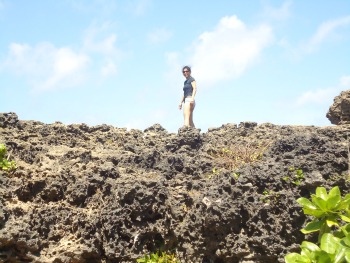 and then I saw it. Wow!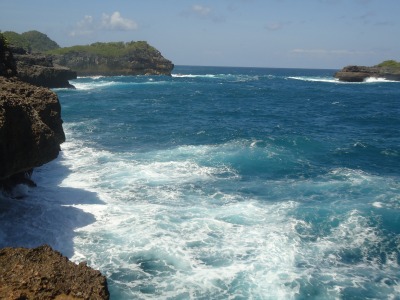 I called the others to come. Now they did. We liked to be up here more than down there. This is a very good chance to make pictures because ocean never looked the same. Sometimes we waited the wave coming and try to put it on a photo, like this one.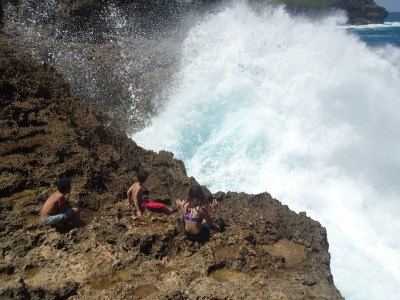 I can't describe the feelings being there, so free, no boundaries, burden or problems, being one with the nature. This natural beauty is worth the effort.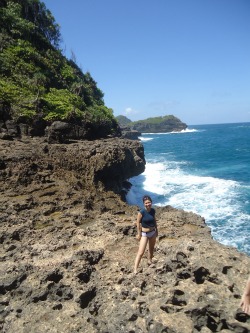 Around 3 pm we went back through the same hard way again. But this time it seemed easier because we have passed it and we've enjoyed the amazing Segoro Anakan. We did the back trip in about one hour.
When we got at Teluk Semut, it looked different. Now it was dry due to the ebb tide. We had to walk further to the boat because it couldn't reach us at the same place when it brought us this morning. Now we could see the mangrove roots very clearly.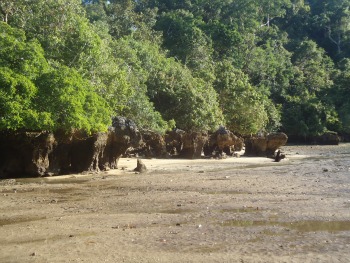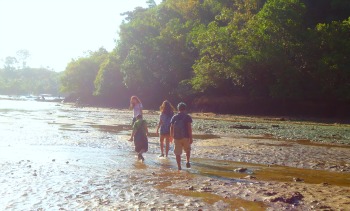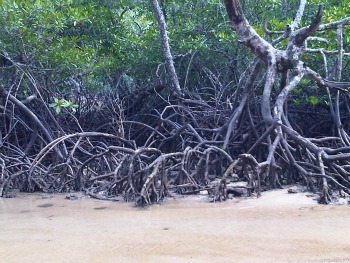 This was our unforgettable trip. Segoro Anakan you're just amazing, like the way you are.
Things you should do if you go there:
Bring enough drink water (better in small light plastic bottles)
Bring food (bread, crackers). Better use plastic bags instead of containers. So it'd lighten your load on the back way.
Use the rubber shoes which you may rent there (bring your own socks).
Take a guide.
If you don't plan to stay overnight there, try to arrive at Sendang Biru in the morning so you'd have enough time to stay at Segoro Anakan and go back on time (before dark).
Better to go there not during the rainy season especially if it's your first time. You could spend 4 hours just for one way trip there.
Bring some plastic bags for the trash. The guide has burned our trash at Segoro Anakan but if he didn't, we'd bring it back to Sendang Biru and throw it there. Please do it as well.
Bring a mat, extra clothes, sun blocks (a must), hat, wipes, sun glasses, and your CAMERA!
Extra information you may need to know.
Entrée price of Sendang Biru is IDR 4.000/person
Cost of permission from the Forestry ministry is IDR 40,000.
Cost of guide is IDR 100,000.
Cost of a boat to bring and pick you up is IDR 100,000.
Rent rubber shoes costs IDR 10,000/pair.
Rent car (Toyota Kijang including driver and fuel) from Malang to Sendang Biru for 12 hours is IDR 375,000 and IDR 15,000 for every extra hour.
I know that watching live is the best way to enjoy Segoro Anakan but this slide show may give you more pre-enjoying. (mouse over the image to see the description)
Return from Segoro Anakan in Pulau Sempu To Malang Beaches And Waterfalls
Return from Segoro Anakan in Pulau Sempu to Holiday-Or-Living-in-Malang
After enjoy this amazing lagoon at Indian Ocean you might also enjoy another beach pleasure like this following site.
SearchMajorca.com
One mans experiences of vacations in sunny Majorca. Giving you everything, to achieve the holiday of your dreams. Includes a guide to Mallorca, how to travel to Majorca and golf holidays in Mallorca.