SENDANG BIRU
Sendang Biru beach is located in Tambakrejo village, Sumbermanjing Wetan district, South Malang. The trip to that beach takes about 2,5 hours from Malang, a bit further than Balekambang beach.
Together with a friend and her two children and another friend of Pelangi we went there. The kids are having summer holiday. Because we want to have fun and relax also during the trip, we rent a car and a driver. It costs IDR 450,000 for 12 hours including a driver and gas.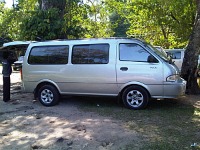 The Pregio car is big enough for 8 people, 7 of us plus the driver. Outside Malang city the road goes upwards. From the car we saw rice field, teak plantation and nice scenery.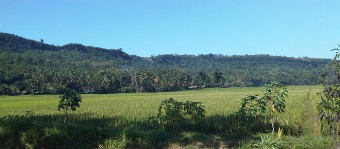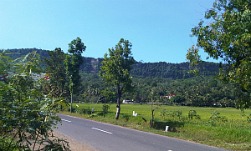 None of us has been to Sendang Biru beach. (The driver of course has). We didn't know whether we could buy lunch there, so to make sure we brought our lunch, snacks and drink water from home.
After about 2 hours the driver said that we were there! We saw the blue water….. and lots of boats. Yes, I expect it because Sendang Biru is also a small harbor for fishing boats.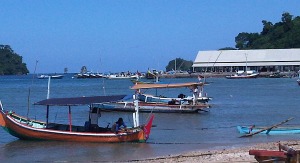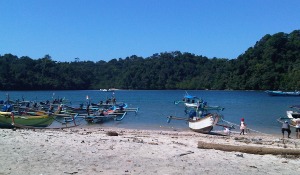 That's nice to see and to put in photos but the kids were a bit disappointed. "Where can we swim and play water?", they asked. I do understand it. The blue sea water is so tempting.... and that's why we are here for, right?
A man came to us. He could see that we had no idea about this place… He is apparently a local guide. He said that we could take a ride of boat that would bring us to the island, called Sempu island. We looked to the direction he pointed.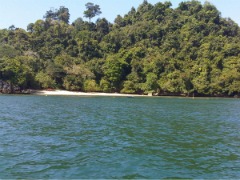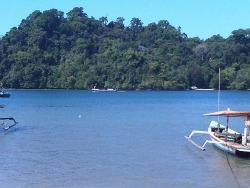 There we can swim and play water. If we want to go back we can call the boat then they will pick us up. It sounds good!
We asked the price of the boat…. Hm…actually the price of the boat ride. It was IDR 100.000 forth and back. We asked the driver of our rent car if the price is fair and he said yes. Often you can bargain for prices in Indonesia. It's better to ask people at your hotel first or from your travel office so you know that you won't pay too much. For some people it is no problem though since the price in their home country would be much higher and the currency from IDR to USD is very low.
Off we went! First in the boat…….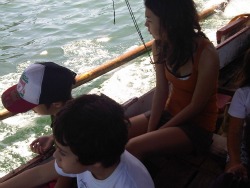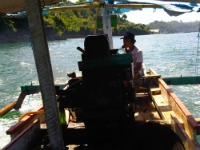 It was just a simple boat. The sound of the motor is so loud that you can't hear each other if you talk. But it's ok, you don't need to talk, just pamper your eyes with the blue of water and the green of trees, and feel the breeze of the wind and splash of water.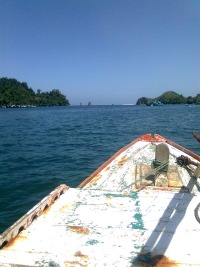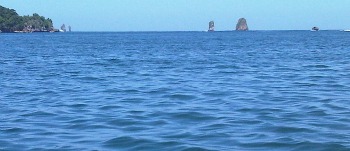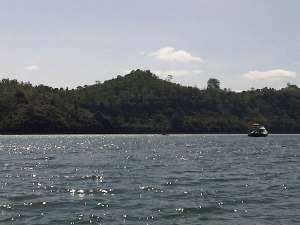 Some minutes later we came closer to the Sempu island and we can see its beaches better.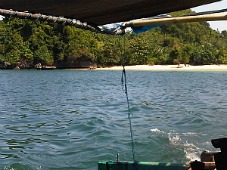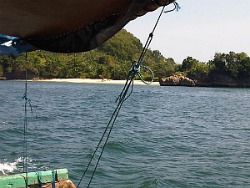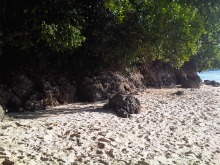 We can choose at which beach we want to stop but we had no idea. The driver of the boat brought us to a small beach where big trees grow towards the sea so we can sit in their shadow.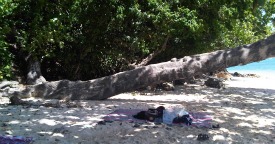 A very good choice! I like the idea as if we have private beach. But we don't need a yacht…… just a simple boat.
Sendang means spring and biru means blue. The beach of Sempu island is not towards the open sea. It is between the land and the island so the sand is very smooth, no rocks and shells.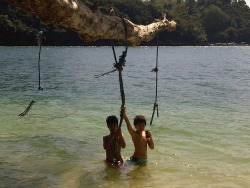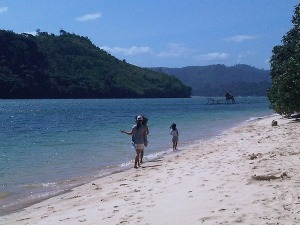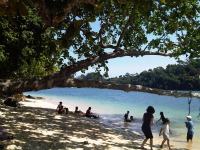 In this small island there are no facilities as bath room or food stall. If you don't have enough food or drink water you cannot stay long here.
Boats come and go bringing other visitors. I see that many visitors didn't bring food and or drink water. Maybe this is the first time for them as well. The advantage for us is that they just stayed for a while and we can enjoy the beach by ourselves longer.
Pulau Sempu is a nature preserve. Pelangi and her friends took a walk in the forest and they told me that there saw a path there. We were curious where the path leads to. The path is made by stones from the sea and they are very sharp. We took our slippers and went there.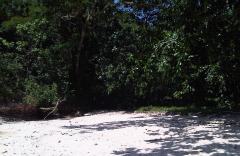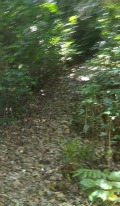 Up we went but we saw no end. After a while I decided to go back because we had Karina, a girl of 5 with us. How if she would be too tired to walk on the way back? We couldn't carry her because the path is too small and sometimes we have to bend to avoid twigs along the path.
But anyway it's nice to be there, far from all noises, just the sound of the wind and bird singing. It's a pity that we couldn't see the bird while it sounds so close and clear.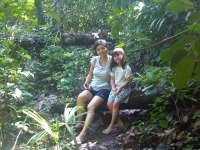 For my next visit here I'd bring my walk shoes. I really want to know where the path ends.
Then we went back to the beach, swam, play water and sand, lying under the trees staring at the other side of this island, Sendang Biru. We had our lunch and play water again. The water is fresh but none of the children said it. Maybe I need to keep swimming so I wouldn't feel the coolness. Around 4 pm we called our simple "yacht" to pick us up.
The sun started to go down and it gave me the chance to photograph the nice colors from the nature at Sendang Biru.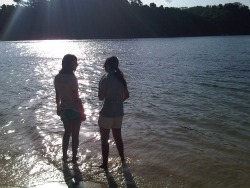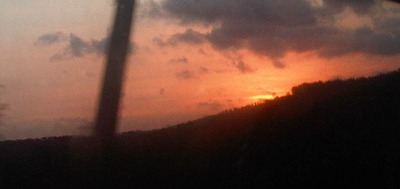 We were back at Sendang Biru beach again. Here we were out the boat.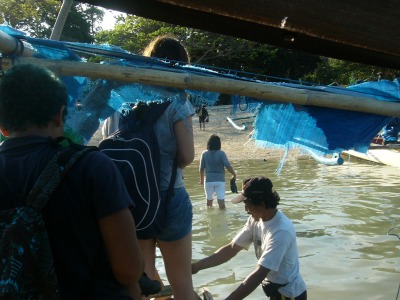 Then we took bath in a simple bathroom there.
After that we didn't go home yet. The driver brought us to the fish market there. When we were there they just caught a big fish.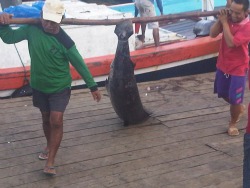 Tired but satisfied we went back to our home in Malang again. Bye Sendang Biru beach……I for sure will come back here again.
Return from Sendang Biru To Malang Beaches and Waterfalls
Return from Sendang Biru to Holiday-Or-Living-in-Malang