BALEKAMBANG BEACH
Balekambang beach is just about 90 minutes from the Malang city to the south where other Malang beaches are situated like Sendang Biru, Segoro Anakan and beaches in Sempu Island . It is located in Srigonco village, Bantur district. The distance is not long, but you just cannot drive fast in Malang.

This beach is well-known to locals but not to tourists. To get there you have to drive through a forest and you will pass sugar cane plantation. Two kilometers before you reach the beach the road is not in good condition but the trip is worth it once you see the sea and the beach.


There are some small islands along this beach. One of them, Ismoyo island is only about 200 meters away. You will see a temple on it and a bridge which connects the island and the beach.

The beach has a lot of pebbles and the sand is granular, so you will get a free foot massage if you walk here. On the contrary, the beach close to the Ismoyo island has smooth sand, it will relax your feet. See the difference in the pictures here below.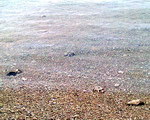 Here Pelangi and her friends are sitting on the smooth sand and playing in the water.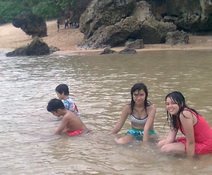 There are also some small stores where you can buy food, drinks, and souvenirs along the beach. Since the food has limited choices, I suggest you to bring your own food. Mats to sit on can be rented. You have to pay entry fee for each person and your vehicle.
Although the sea has unlimited water, the bathroom doesn't have enough. Then you can buy bottled water to rinse your body. The price of the water is reasonable.
This beach is a good place to watch the sunset, just pity that there's no lodging for the night and no lights along the streets either yet. So I always go home before it gets dark.
My suggestion to enjoy your beach day….
Put your mat under the tree, spray sun block on your body, put your sunglasses on and lie on your mat. Listen to the sound of the wind and sea, feel the warmth of the sun and coolness of the breeze. Let your lazy day start……
Return from Balekambang Beach To Malang Beaches And Waterfalls
Return from Balekambang Beach to Holiday-Or-Living-in-Malang