FENDIS GUEST HOUSE
When I was at Fendis guest house to get more information and take pictures, Mr, Nano, the contact person helped me. He showed me all the rooms and the sitting area and told me story about this guest house.
This home stay has been operated since 2007. The owner is family Effendi. When the father has passed away, the children decided to make the house into a guest house. The name of the guest house is a short name of the late owner. They use the name Fendi's but for some technical reason I use Fendis. So don't get confused….
The building has old-fashioned Dutch characteristics and Dutch name as well; Schoonzicht, means beautiful scenery. It's my pleasure to see that the original building is still kept while it has been renovated into a guest house.
First there were 14 rooms and now there are 25 rooms with five types. Beside the building characteristics, Fendis guest house has also furniture from Dutch colonial time like cupboard, radio, table, chairs and clocks.
It seems that the owners like to collect antiques. They still look good. My late husband and I also love it (actually he more). We also have some items from Dutch colonial period in Indonesia. I spoke to Mr. Nano about the antiques. He told me that a friend of him has a shop of antiques and it is just two streets further. Hmm...... I must visit the shop one day.
But now back to Fendis. After running the guest house for several years, the owners decided to expand it. When the back neighbor sold their house, they didn't let this chance pass by. The neighbor house has also old-fashioned Dutch characteristics. Other interesting thing is that the house has been sold together with furniture from Dutch colonial time as well.
The location is in one of the main streets in Malang, so places to eat, ATM, supermarket are in a walking distance. This home stay is clean and has comfortable atmosphere. They have 25 rooms with five different types. All are provided with private bathroom (hot and cold water), television, AC and breakfast (bread or Indonesian food plus coffee/tea). At the whole area of Fendis guest house you can have free wifi. So take your lap top, notebook, BB or whatever out your room and…. happy surfing online!
Here are the types and price of the rooms. You can check the currency here. According to Mr. Nano the prices remain the same either in weekdays or weekends and holidays.
Family Room, IDR 800.000
This room is for 4 people and has extra facilities: water dispenser and free 1 extra bed. If you take this room then you can park your car in front of the room.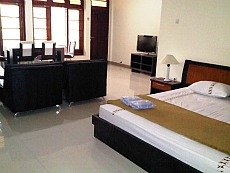 Junior Family 1, IDR 500,500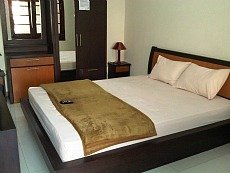 Junior Family 2, IDR 401,500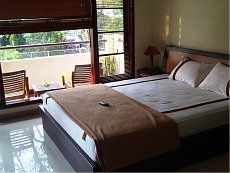 Deluxe Room, IDR 308,000
Standard Room, IDR 280,500
You can enjoy your tea, coffee, the special-for-holiday-books or being online in a sitting area near garden.....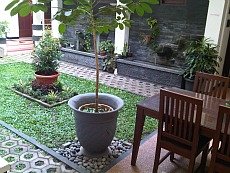 or....
at the balcony....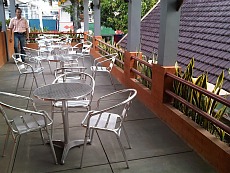 I hope you get more idea about this guest house from my information above. If you decide to stay there, then I wish you a pleasant stay.
Fendis Guest House
Jalan Kawi no.48 Malang
Phone: +62-341-551359
Contact person : Mr. Nano
Return from Fendis Guest House To Malang Guest Houses
Return from Fendis Guest House to Holiday-Or-Living-in-Malang